FOOTLOOSE THE MUSICAL TOUR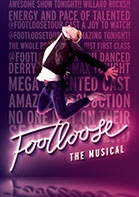 The smash hit musical Footloose: The Musical will burst back on to the stage next year with Gareth Gates playing the role of Willard.
The show will be premiering at the Spa, Bridlington, with previews on January 29 and 30 January before a week's residency between February 2 and 6 as part of a major new UK tour.
A new tour of Footloose the Musicl is being presented by
Footloose the musical tells the story of Ren McCormack who is forced to move from Chicago to a small town nobody has ever heard of - Beaumont.

He soon finds himself at odds with the repressive atmosphere there where the spiritual life of the community is overseen by the power local minister Reverend Moore.
Ren is stunned to learn that dancing is not allowed anywhere within the town limits of Beaumont, but discovers that this law dates back five years to a car accident that claimed the lives of four Beaumont teenagers. In the flood of grief after the tragedy the Rev Moore managed to convince the town council to ban dancing.

Ren vows to "take on this town" and incites a revolution by his classmates to throw a dance.

Footloose is packed full of electrifying dance routines and classic 80's anthems including Holding Out For A Hero, Almost Paradise, Let's Hear It For The Boy and of course Footloose
The musical is based on the hit 80's movie which launched the careers of Kevin Bacon, Sarah Jessica Parker and Jon Lithgow.
Footloose: The Musical has music by Tom Snow and lyrics by Dean Pitchford, and is adapted for the stage by Dean Pitchrord and Walter Bobbie.  It is based on the original screenplay by Dean Pitchford.  It is directed and choreographed by Racky Plews (American Idiot, West End)  It is produced by David Hutchinson and Phillip Rowntree for Sell A Door Theatre Company and Tristan Baker & Charlkie Parsons for Runaway Entertainment.  It is presented by arrangement with R&H Theatricals Europe.
More tour dates and casting news to follow
| | | |
| --- | --- | --- |
| The Spa Bridlington | 29 January – 6 February 2016 | |
| Dartford Orchard Theatre | 8 – 13 February | |
| Edinburgh Festival Theatre | 16 – 20 February | |
| Lowestoft Marina | 22-27 February | |
| Cardiff New Theatre | 29 February-5 March | |
| Manchester Palace | 14-19 March | |
| Carlisle Sands | 21-26 March | |
| Portsmouth Kings | 28 March-2 April | |
| Bournemouth Pavilion | 12-16 April | |
| Oxford New | 18-23 April | |
| Weston super Mare | 25-30 April | |
| Wimbledon Theatre | 2nd-7th May | |
| Liverpool Empire | 9 -14 May | |
| Watford Colosseum | 16-21 May | |
| Belfast Grand | 23-28 May | |
| Derry Millenium Forum | 31 May-4 June | |
| Torquay Princess | 6-11 June | |
| Glasgow King's | 13-18 June | |
| Aberdeen Her Majesty's | 20-25 June | |