GROUNDHOG DAY MUSICAL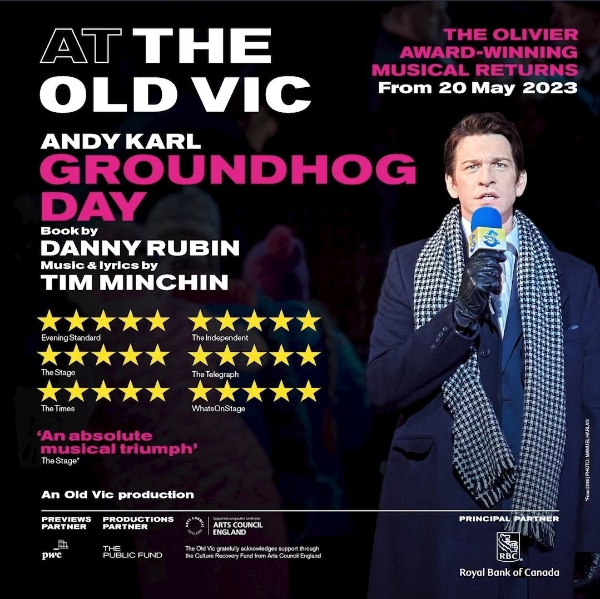 Award-winning musical Groundhog Day is to  be re-staged at London`s Old Vic from 20 May to 19 August 2023, with a press night on 8 June.
Based on the much-loved book (and subsequent film adaptation), the musical is penned by Danny Rubin (who wrote the original screenplay) with music and lyrics by Tim Minchin (Matilda the Musical) and direction by Matthew Warchus, artistic director of the Old Vic.
It tells the story of a meteorologist stuck in a time loop in the small town of Punxsutawney, Pennsylvania, But when the cynical Pittsburgh TV weatherman is sent to cover the eccentric annual Groundhog Day event, he finds himself caught in a time loop that sends him on a hilarious path to enlightenment and redemption.. Andy Karl (Pretty Woman) will return to the leading role of Phil Connors for the London run with Rita Hanson whose credits include Moulin Rouge! and The Prince of Egypt. taking on the role of Connors' foil and earnest reporter Tanisha Spring with Jasmin Colangelo (swing/puppetry captain), Kelly Ewins-Prouse (swing/dance captain), Kamilla Fernandes (ensemble (Debbie)), Aimée Fisher (ensemble (Joelle)), Zack Guest (swing), Nick Hayes (ensemble (Ralph)), Jacqueline Hughes (ensemble (Piano Teacher)), Ashlee Irish (ensemble (Larry)), Chris Jenkins (ensemble (Gus)), Andrew Langtree (ensemble (Ned Ryerson)), Billy Nevers (ensemble (Fred)), Eve Norris (ensemble (Nancy)), Mark Pearce (ensemble (Sheriff)), Ben Redfern (ensemble (Buster)), Tanisha Spring (Rita Hanson), Durone Stokes (ensemble (Deputy)), Alex Stoll (ensemble (Billy)), Jez Unwin (ensemble (Jenson)), Annie Wensak (ensemble (Mrs Lancaster)), and Matthew Whennell-Clark (swing/assistant dance captain).
Warchus has also stated that the show's set and revolve will be simplified for this new run, making the production better suited to touring.
Groundhog Day has choreography by Lizzi Gee, set and costume by Rob Howell, orchestration, additional music and musical supervision by Christopher Nightingale, lighting by Hugh Vanstone, sound by Simon Baker, illusions by Paul Kieve, additional movement by Finn Caldwell, video by Andrzej Goulding, casting by Will Burton for GBC, musical direction by Alan Berry, voice by Charlie Hughes-D'Aeth and dialect by Penny Dyer.
The associate directors are Paul Warwick Griffin and Nik Ashton and the assistant musical supervisor is Jack Hopkins.
THIS SHOW ENDED ITS RUN ON 19TH AUGUST 2023