FAT FRIENDS THE MUSICAL TOUR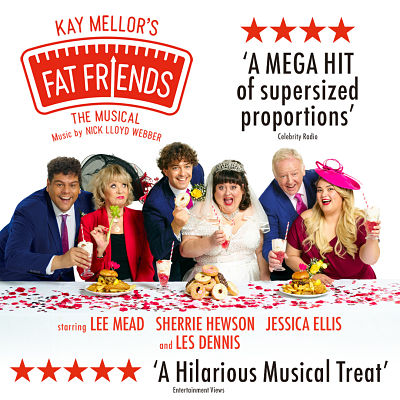 Joshua Andrews and Adam Spiegel have just announced the premiere of the British musical Fat Friends based on the TV drama and has been adapted for the stage by writer Kay Mellor with original music by Nicholas Lloyd Webber. Mellor will also direct the show which opened at Leeds Grand Theatre on 7th November followed by an extensive UK tour in 2018.
Designed by Bretta Gerecke with musical supervision, orchestrations and arrangements from Simon Lee. Jodie Prenger will play Kelly Stevenson a big, bubbly, bride to be who works in her dad's fish and chip shop. leading a star company including X Factor Winner Sam Bailey as Betty - Kelly's mother, homely and sweet and recently slimmed down/Elaine C Smith at three Scottish dates in Edinburgh, Glasgow and Aberdeen with Emmerdale's Natalie Anderson as a Lauren (Jewish, attractive, thinks her bum's too big, works in a bridal shop and runs Super Slimmers Headingley Branch) and former England cricket captain, and star of SKY's League of Their Own, Andrew "Freddie" Flintoff is playing Kevin Mergatroyd (Kelly's fiancee, a big lovable lad but not the sharpest knife in the drawer) in Leeds, Southampton, Sheffield, Manchester, Birmingham, Bradford and Blackpool/Joel Montague (School of Rock) who also recently starred alongside Sheridan Smith in Funny Girl will share the role at Bromley, Newcastle, Hull, Southend, Milton Keynes, Nottingham, Norwich, Dartford, Cardiff, Belfast, Edinburgh, Glasgow & Aberdeen . Other casting includes Rachael Wooding as Joanne (Kelly's sharp tongued and feisty thin sister), Chloe Hart as Val (works for local TV, has replaced men with chocolate and put on 2 stone!). Atomic Kitten Natasha Hamilton, who has previously starred in Blood Brothers, will take on the role of Julia at Leeds, Southampton, Sheffield, Manchester, Bromley, Newcastle, Hull, Southend, Milton Keynes, Nottingham, Norwich and Blackpool alongside Kevin Kennedy (Coronation Street, We Will Rock You) as Fergus / not 27 November – 2 December in Leeds) with Jonathan Halliwell as Paul (Let It Shine) and Chloe Hart (Hairspray) with Craig Armstrong, Lizzie Bea, Paul Brangan, Emma Crossley, Neil Hurst, Ellie Leah, Laura Mansell and Ryan Pidgen completing the cast.
This brand new stage show reunites dieting friends in an original musical full of hopes, humour and heart. Watch the group of loveable characters put through their Zumba paces at their local branch of Super Slimmer's by the lovelorn Lauren whilst Kelly fantasises about fitting into the wedding dress of her dreams.
The TV drama was nominated for multiple awards including the BAFTA for Best Drama Series and followed the lives of a group of overweight friends as they struggle with the absurdities of modern dieting. Running from 2000 for five years on ITV, the show starred Alison Steadman, Sheridan Smith and Lisa Riley and launched the careers of James Corden and Ruth Jones.
THIS TOUR ENDED ON 2ND JUNE 2018