MATTHEW BOURNE'S SWAN LAKE TOUR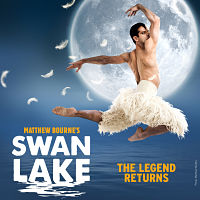 New Adventures is delighted to announce that Matthew Bourne's legendary "SWAN LAKE" will return to Sadler's Wells in 2018 for the Christmas season with a fresh look for the 21st Century and will also tour the UK.
Retaining all the iconic elements of the original production loved by millions around the world, Matthew Bourne and the creative team will create an exciting re-imagining of the classic production.
Collecting over thirty international theatre awards including three Tonys on Broadway, Matthew Bourne's powerful interpretation of Tchaikovsky's beloved tale is a passionate and contemporary Swan Lake for our times.
Perhaps best-known for replacing the traditional female corps de ballet with a menacing male ensemble, Matthew Bourne blends dance, style, humour, spectacle, character comedy and mime to create a provocative and powerful Swan Lake for our times.
The most talked about innovation in this production is the casting of a male dancer in the coveted role of Odette/Odile known as "the Swan". "The idea of a male swan makes complete sense to me" says Matthew, "the strength, the beauty, the enormous wingspan of these creatures suggests to me the musculature of a male dancer more readily than a ballerina in her white tutu."
Royal Ballet rising star, Matthew Ball, will be joining New Adventures for the entire London season of Matthew Bourne's "SWAN LAKE" at Sadler's Wells in the role of 'The Swan'. Matthew will be making his debut with New Adventures and will dance four performances each week during the eight-week season at Sadler's Wells. He is currently making his debut as 'Prince Siegfried' in The Royal Ballet's new production of "Swan Lake" at the Royal Opera House. Matthew Ball joins New Adventures' star Will Bozier, currently dancing to great acclaim as 'Harry, the Pilot', in Matthew Bourne's "Cinderella" and former English National Ballet star Max Westwell who was also recently seen in the West End in "An American in Paris". Will and Max are both making their debuts in the role of 'The Swan' and will perform throughout the tour.
Both returning to the role of 'The Prince', two much loved New Adventures Principal dancers, Liam Mower ( wgo played 'The Angel' in "Cinderella") and Dominic North (acclaimed star of "Edward Scissorhands", "The Car Man", "Sleeping Beauty", "The Red Shoes" and "Cinderella"). They are joined by New Adventures' newcomer, James Lovell who is making his professional debut.'The Queen' will be performed by two long-time New Adventures favourites, Nicole Kabera and Katrina Lyndon both making their debuts in this role.
'The Girlfriend' will also be performed by Katrina Lyndon. She is joined by Freya Field and Carrie Willis who are both returning to the Swan Lake Company. The Private Secretary' will be played by long-time Company Principal Glenn Graham (recently seen as 'Grischa' in "The Red Shoes") along with Max Westwell and Ashley-Jordon Packer.Returning to New Adventures are Tom Broderick, PJ Hurst and Alex Sturman.
Making their debuts with New Adventures are: Nicole Alphonce, Leigh Alderson, Jonathan Luke Baker, Alistair Beattie, Benjamin Bazeley, Megan Cameron, João Castro, Zanna Cornelis, Kayla Collymore, Keenan Fletcher, Michaela Guibarra, Bryony Harrison, Nicholas Keegan, Shoko Ito, Courtney Liu, Jack Mitchell, Barnaby Quarendon, Jack William Parry, Sam Salter, Stan West and Milwhynne Williams. Also making their New Adventures debut are Andrew Ashton from Newcastle, Isaac Bowry from Glasgow and Harry Ondrak-Wright from Birmingham who all performed in the acclaimed New Adventures production of Lord of the Flies in 2014.
Originally written by Tchaikovsky in the late 19th century, SWAN LAKE was staged at Moscow's Bolshoi Theatre in 1877, but it wasn't until 18 years later - and after the death of its composer - that it was finally staged in St Petersburg, and became a universal classic.
THIS TOUR ENDED ON 25TH MAY 2019