SUNNY AFTERNOON TOUR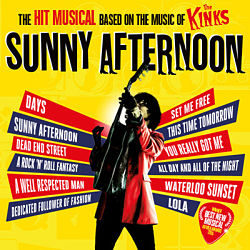 updated 9th June:This tour of Sunny Afternoon has been postponed. In a statement the show saidt: "as we wait for further guidance from the Government regarding the reopening of theatres, and due to the inevitable knock-on effect that social distancing restrictions have had on the production's timetable, we must regretfully inform you that the upcoming 2020–2021 tour has been postponed".
Sunny Afternoon, the musical based on the music of The Kinks , will embark on a new tour in 2020. Set against the backdrop of a Britain caught mid-swing between the conservative 50s and riotous 60s, this production explores the euphoric highs and agonising lows of one of Britain's most celebrated bands and the irresistible music that influenced generations.It is based on the early life of The Kinks' Ray Davies, the Olivier Award-winning musical features songs including "You Really Got Me", "Waterloo Sunset", "All Day and All of the Night" and "Lola".
SUNNY AFTERNOON has music and lyrics by Ray Davies with a book by Joe Penhall and original story by Ray Davies. It is directed by Edward Hall and designed by Miriam Buether with choreography by Adam Cooper. Design is by Rick Fisher with sound design by Matt McKenzie. Musical and vocal adaptations are by Ray Davies and Elliott Ware based on original Kinks' recordings. Casting for the tour is to be announced..
he show first opened at the Hampstead Theatre before transferring to the West
Below are the postponed dates:
| | |
| --- | --- |
| MANCHESTER OPERA HOUSE | 7 - 15 August 2020 |
| BRISTOL HIPPODROME | 18 – 22 August |
| MILTON KEYNES THEATRE | 1 – 5 September |
| HULL NEW THEATRE | 8 –12 September |
| EASTBOURNE CONGRESS | 15- 19 September |
| SUNDERLAND EMPIRE | 22- 26 September |
| BLACKPOOL WINTER GARDENS | 9 September - 3 October |
| BRIGHTON THEATRE ROYAL | 6 - 10 October |
| SOUTHEND CLIFFS PAVILION | 13 – 17 October |
| STOKE REGENT | 20 - 24 October |
| SOUTHAMPTON MAYFLOWER | 27-31 October |
| BRADFORD ALHAMBRA | 3-7 November |
| EDINBURGH PLAYHOUSE | 10-14 November |
| WIMBLEDON THEATRE | 24-28 November |
| BIRMINGHAM ALEXANDRA | 1-5 December |