THE SOUND OF MUSIC TOUR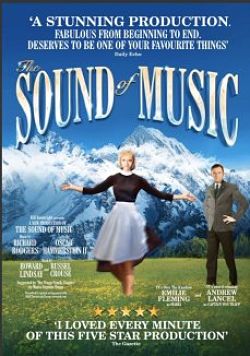 The Sound of Music is touring again next year - the most successful movie musical in history. Produced by Bill Kenwright, it is directed by Martin Connor, choreographed by Olivier Award winner Bill Deamer with musical direction by David Steadman.
Emilie Fleming (Dorothy in Over the Rainbow) will play Maria, with Andrew Lancel reprising his role as Captain von Trapp.
Welsh soprano Megan Llewellyn will play the role of Mother Abbess and will be joined by Howard Samuels (Max), Michael Anderson (Rolf), Nicole Farrar (Liesl), Alex Evans (Herr Zeller) Zoe Ann Brown (Sister Margaretta), Georgina Hagen (Sister Berthe), Katie Shearman (Sister Sophia), Sophie Christine (Ursula), Olivia Alexander (Baroness Elberfeld), Jon de Ville (Franz), Wendy-Lee Purdy (Frau Schmidt), Paul Lavers (Admiral von Schreiber) and Sam Tithecott (Baron Elberfeld).
The Sound of Music tells the true story of the world-famous singing family, from their romantic beginnings and search for happiness, to their thrilling escape to freedom as their beloved Austria becomes part of the Third Reich at the start of WWII. It has a timeless score which includes Do-Re-Mi, Climb Ev'ry Mountain, My Favourite Things, Sixteen Going on Seventeen and Edelweiss and tells the tale of Maria (a nun who is constantly getting into mischief) and how her life changes when a widowed Austrian Navy Captain, Georg von Trapp, writes to the abbey asking for a governess for his seven children. Mother Abbess asks Maria to take the position on a probationary basis and a then the story unfolds.
To help prevent the spread of coronavirus (COVID-19), we are sorry to confirm that all performances of this tour are cancelled up to 28 June 2020 when the situation will be reviewed.