ONLY FOOLS AND HORSES MUSICAL TOUR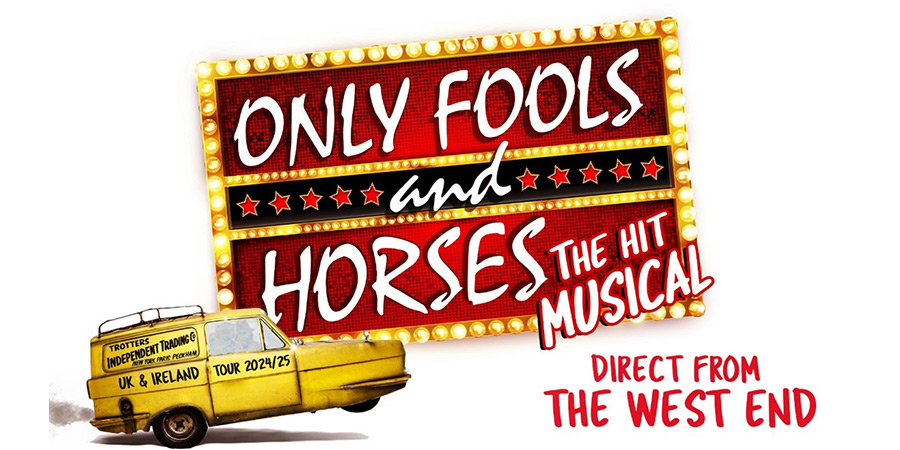 The musical version of Only Fools and Horses, which played earlier this year at Lonfon´s Haymarket Theatre is heading out on a 2024/25 tour kicking off at Bromley next September
It has been co-written by Paul Whitehouse and Jim Sullivan (son of the sitcom's creator John). The late Chas Hodges, of Chas and Dave fame, helped compose the show's 20 new tunes. The musical (which John Sullivan was working on at the time of his death in 2011) is "fully endorsed" by the late writer's estate.
Featuring material from the TV series ,the musical takes a a trip back to 1989, where it's all kicking off in Peckham. While the yuppie invasion of London is in full swing, love is in the air as Del Boy sets out on the rocky road to find his soul mate, Rodney and Cassandra prepare to say 'I do', and even Trigger is gearing up for a date (with a person!). Meanwhile, Boycie and Marlene give parenthood one final shot and Grandad takes stock of his life and decides the time has finally arrived to get his piles sorted!
Directed by Caroline Jay Ranger, Only Fools and Horses has set and costume design by Liz Ascroft, musical supervision and arrangement by Stuart Morley, lighting by Richard G Jones and sound by Rory Madden.
Listen to official trailer from Only Fools and Horses Musical
Below are the dates we have so far with casting news to follow. The show will also spend three weeks at the Eventim Apollo in Hammersmith next Christmas, beginning its run on 17 December 2024.
| | | |
| --- | --- | --- |
| Bromley Churchill | 13-28 September 2024 | |
| | 20 Sept-5 October | |
| Bradford Alhambra | 7-12 October | |
| York GOH | 14-19 October | |
| | 21-26 October | |
| Glasgow Theatre Royal | 28 October-2 Nov | |
| Edinburgh Playhouse | 5-9 November | |
| Manchester Opera House | 11-23 November | |
| Sunderland Empire | 25-30 November | |
| Stoke Regent | 2-7 December | |
| Brighton Dome | 11-14 December | Buy tickets |
| LONDON EVENTIM Apollo | 17 December-4 January 2025 | |
| | 6-11 January | |
| Norwich Theatre Royal | 13-18 January | |
| Llandudno Venue Cymru | 20-25 January | |
| Bristol Hippodrone | 27 Jan-8 Feb | |
| Newcastle Theatre Royal | 10-22 February | |
| Northampton Royal / Derngate | 24 Feb-1 March | |
| Southampton Mayflower | 3-8 March | on sale soon |
| Oxford New | 10-15 March | |
| Milton Keynes Theatre | 17-22 March | |
| Birmingham Hippodrone | 31 March-12 April | on sale soon |
| Canterbury Marlowe | 14-19 April | |
| Nottingham TRCH | 21-26 April | |
| Blackpool Grand | 28 April-3 May | on sale soon |
| Truro Hall for Cornwall | 5-10 May | on sale soon |
| Cardiff WMC | 12-17 May | on sale soon |
| Plymouth Theatre Royal | 19-24 May | on sale soon |
| Sheffield City Hall | 26-31 May | |
| Leeds Grand | 2-7 June | on sale soon |
| | 9-21 June | |
| Belfast GOH | 23-25 June | on sale soon |
| Dublin Bord Gais | 30 June-5 July | on sale soon |