VAUDEVILLE THEATRE
404 Strand
London, WC2R 0NH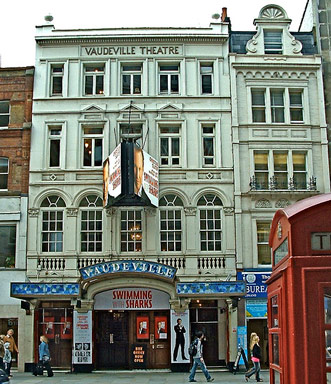 The Vaudeville Theatre stands on the northern side of the Strand just a few metres from the Adelphi Theatre. It opened February 1926 and is the third theatre on this same site since 1870.
The first theatre opened as the Vaudeville Theatre in 1870 with an auditorium on four levels, Stalls and Pit, Dress Circle, Upper Circle, Gallery and Ampitheatre and a seating capacity of 1,000.
It was reconstructed in 1891 and the changed auditorium was on four levels, Stalls and Pit, Circle, Upper Circle, and Gallery, with a reduced seating capacity of 740. The theatre frontage was completely replaced removing what had previously been the frontage of two houses on the Strand.
The Third and present Vaudeville Theatre was reconstructed in 1926 with the auditorium being completely gutted and rebuilt on three levels, Stalls, Dress Circle, and Upper Circle with a seating capacity on opening of 650, which has since been enlarged to 690.  The roof was raised, part of the basement was lowered, the proscenium was enlarged and the stage completely rebuilt. The facade was retained from the second reconstruction of the Vaudeville Theatre.
In 1968 the theatre was threatened with closure along with the Adelphi, Garrick, Lyceum and Duchess Theatres who would all need to be demolished to allow for the redevelopment of the Covent Garden area. The Save London Theatres Campaign  was formed in 1972 in response to this plan and managed to stop the demolition taking place.
Sir Peter Saunders purchased the theatre in 1969 and subsequently commissioned stage designer Peter Rice to redesign the interior with a colour scheme involving a lot of plaster-based green marbling and a red wallpaper a bold gold pattern. The entire playhouse had new carpets and new seats fitted.  Backstage a counterweight flying system was also added along with an orchestra / forestage lift.
In 1983 ownership passed to Michael Codron and David Sutton who sold it to Stephen Waley-Cohen in 1996.
Today the Vaudeville theatre is a grade II listed building owned by Max Weitzenhofer (Nimax Theatres) who acquired it from Stephen Waley-Cohen in 2002.
Future plans for the theatre are improved access and facilities which may mean completely new toilets and better access to all seating levels.
HOW TO GET TO THE VAUDEVILLE THEATRE
Tube :  Charing Cross/Covent Garden/Embankment
Train: Charing Cross

1, 4 , 6, 9, 11, 13 , 15, 68, 76, 171, 176, 188

Masterpark Trafalgar Square. NCP Drury Lane. This theatre participates in the Theatreland Parking Scheme - find out more about the great discounts offered by clicking on the link.
DISABLED ACCESS TO THE VAUDEVILLE
| | |
| --- | --- |
| | None |
| | Guide dogs are permitted inside the auditorium |
| | Steps to all levels. Wheelchair users who will remain in their chair can use the AAT Major stair-climber which gives access to the stalls, where seats S8-11 can be removed to create spaces. Patrons requiring the use of the stair climber are asked to arrive at the theatre 45 minutes prior to the start of the performance. Transfer seating available to any aisle seat on left-hand side of Stalls. |
| | No adapted toilet but there is an arrangement with the Adelphi Theatre (25 metres along the Strand) to use their facilities |