DUCHESS THEATRE
3-5 Catherine Street
Holborn, London, WC2B 5LA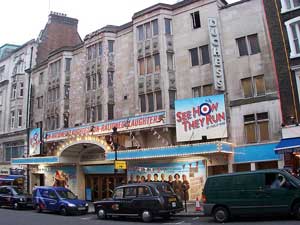 The Duchess Theatre on Shaftesbury Avenue opened in 1929 and is one of the smallest proscenium arched West End theatres. It has 479 seats on two levels with excellent sight-lines as the circle is suspended from the roof. The Theatre has concealed lighting throughout.
It was designed in Modern Tudor Gothic style by Ewen Barr with the upper storeys set back and the rest of the building low to the ground, with much of it (including the stage and stalls) below ground level. The circle is narrower than the stalls with its front at street level. This design does present problems as ground water has to be permanently pumped out of the basement by several dedicated pumps (like the bilge pumps on a boat)
The Duchess was eighty years old in November 2009 and has its original iron curtain, grid, flies, and hardwood stage which all still work well. The lift has recently been put back into service with its original 1929 cabin although it is now operated by modern machinery.
HOW TO GET TO THE DUCHESS THEATRE
Click on map to enlarge image
Tubes : Covent Garden (250m)
Train: Charing Cross (625m)

1, 4, 6, 11, 13, 15, 23, 26, 59, 68, 76, 77A, 91, 139, 168, 171, 172, 176, 188, 243, 341

Single yellow lines in Russell Street. NCP in Drury Lane. Taxi rank at Covent Garden Piazza end of Russell Street.



DISABLED ACCESS TO THE DUCHESS
| | |
| --- | --- |
| | Sennheiser system with 6 headsets. Avoid the first 3 rows in the Stalls and the boxes as the signal is not very strong there. |
| | Guide dogs are allowed into the auditorium if you are seated in an aisle seat or a box. Staff will also dog-sit in manager's office |
| | Steps to all parts of the auditorium. Wheelchair users who need to remain in their chairs can use AAT Major stair-climber which lowers chairs to the stalls level, where there are spaces at N1 and N29.Alternatively, if you are able to transfer from your chair, theatre staff will be able to assist you to any aisle seat in the Dress Circle, which is up 12 steps. F1 and F22 in the Stalls have the most leg room. |
| | One adapted toilet at Stalls. Door opens inwards. |