JEFF WAYNE'S THE WAR OF THE WORLDS: THE NEW GENERATION - ALIVE ON STAGE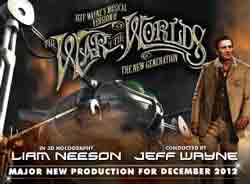 Based on HG Wells' classic science fiction story and one of the most successful stage shows of recent times, Jeff Wayne's The War of The Worlds: The New Generation - Alive on Stage is on a UK arena tour.
Liam Neeson replaces Richard Burton appearing in 3D holography as the story's narrator journalist George Herbert.  He leads an all star cast including West End diva Kerry Ellis playing Beth, Jason Donovan is her husband Parson Nathaniel (he played the Artilleryman in the last tour). Wet, Wet, Wet's Marti Pellow is The Sung Thoughts of the Journalist and Ricky Wilson (lead singer from the Kaiser Chiefs) is the Artilleryman. Australian actor Michael Falzon is reprising the dual role of William Rowland/ Marvin Krauth he played on a previous tour as well as taking on a new role which has been specially created for this production and finally Will Stapleton who is the front man of the fast-rising British rock band Jettblack will play the Voice of Humanity
There is a brand new recording of Jeff Wayne's Musical Version Of The War Of The Worlds - The New Generation by Jeff Wayne. It features major artists incuding Ricky Wilson, Gary Barlow and Joss Stone which can be ordered here.
Neeson appears in three ways during the show: as an 11-foot high hologram; within CGI sequences on a 100-foot animation wall and as a full body interacting holographically with the show's live performers. Neeson who has starred in films including Schindler's List, Star Wars and Love Actually said he was "flattered" to be inheriting the role from Burton.
Some of the many special  effects in the show include a 35-foot tall Martian Fighting Machine which fires heat rays at the audience and scans them with bug like eyes plus
Illusion, Pyrotechnics, Leaf Drops and Flame Effects with music and sound effects mixed live in surround sound
THIS TOUR ENDED ON 8TH JANUARY 2013