THOROUGHLY MODERN MILLIE TOUR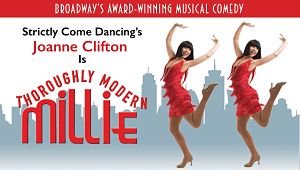 There is a new tour starting at the beginning of next year of the musical Thoroughly Modern Millie which Racky Plews (Footloose, American Idiot) will direct and choreograph. The winner of six Tony Awards including Best Musical, Thoroughly Modern Millie was the 2002 season's most awarded new show on Broadway!
Based on the 1967 Academy Award-winning film, Thoroughly Modern Millie takes you back to the height of the Jazz Age in New York City. Set in 1922 it tells the story of a small-town girl, Millie Dillmount (played by Strictly Come Dancing 2016 winner pro dancer Joanne Clifton), who comes to New York City to marry for money instead of love. Millie bobs her hair and raises her hemlines and soon embraces Mthe flapper lifestyle, but problems arise when she checks into the Hotel Pricilla owned by the evil Mrs Meers - leader of a white slavery ring in China. Lucas Rush (American Idiot, Jesus Christ Superstar Arena Tour) ) is playing Mrs Meers . They will be joined by Sam Barrett (The Fix) as Jimmy Smith, Graham McDuff (Spamalot) as Trevor Graydon, and Katherine Glover as Miss Dorothy. The cast is completed by Jenny Fitzpatrick, Catherine Mort, Damian Buhagiar, Andy Yau, Emma Housley (standby Millie), David Muscat, Alice Baker, Lottie Summers, Laura Marie Benson, Bobby Williams, Marios Nicolaides and Laura Wilson
Including some explosive tap routines to a 'Fred and Ginger' routine on a window ledge Thoroughly Modern Millie provides a great evening of entertainment for all the family.
THIS TOUR ENDED ON 15TH JULY 2017