THE BAND TOUR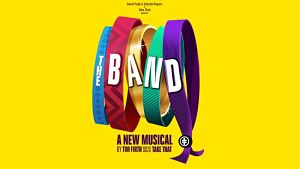 Below are the details of the tour dates of the new Take That/Gary Barlow and Tim Firth musical The Band told via the music of Take That. THE BAND will be produced by David Pugh & Dafydd Rogers and Gary Barlow, Howard Donald, Mark Owen and Robbie Williams
After eight weeks, hundreds of auditions,a number celebrity guest performers and a few famous judges, the winners of BBC`s Let It Shine (which was fronted by Gary Barlow on the hunt for five guys to place the lead roles in the new stage show have now been revealed). Group Five to Five are the stars of Take That¡s new musical winning the public vote ahead of fellow finalists Drive and Nightfall.
Kim Gavin and Jack Ryder will be directing (best known as Jamie Mitchell in EastEnders). , designed by Jon Bausor and choreographed by Kim Gavin, with lighting design by Patrick Woodroffe, video design by Luke Halls and sound design by Terry Jardine and Nick Lidster. The Band which is based on the songs of Take That , but is not about the band itself but a story told via the music of Take That about the lives of five 16 year-old girls in 1992. They idolise their favourite band and the show follows them to 25 years later where they are women trying to fulful their dream of meeting their heroes. The TV show winners will perform the songs but not have any lines. The Band is AJ Bentley, Curtis T Johns, Nick Carlsberg, Sario Solomon and Yazdan Qafouri who will be touring the UK for a year starting September 8th at Manchester Opera House.
They will be joined by Rachel Lumberg as Rachel and Faye Christall as Young Rachel, with  Emily Joyce as Heather, Alison Fitzjohn as Claire, Jayne Mckenna as Zoe, Katy Clayton as Young Heather, Sarah Kate Howarth as Young Claire, Lauren Jacobs as Young Zoe, Rachelle Diedericks as Debbie,Martin Miller as Jeff and Andy Williams as Dave.
Due to unprecedented demand, The Band tour has just extended for another year and will currently end at the Southampton Mayflower Theatre in March 2019
THR UK TOUR OF THIS PRODUCTION ENDED ON 16TH MARCH 2019