SUMMER HOLIDAY THE MUSICAL TOUR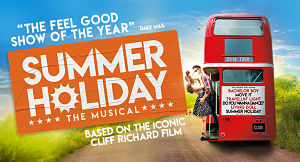 In 1963 Cliff Richard and the Shadows took off on a joyous jaunt across Europe in a Routemaster bus in the film Summer Holiday.
Now Spirit Productions are touring this iconic film as a feel-good stage musical next Summer with Don and his fellow London Transport bus mechanics (played by Cliff Richard and The Shadows in the film) do up do up a number 9 double-decker London bus to drive it through Paris, the Alps, Italy and then Greece, along the way picking up a girl group in a clapped-out Morris Minor who take them to their next singing job in Athens, plus a young American boy stowaway.
Meanwhile, a young American female singer has gone missing (the young American boy is actually the young American girl). The singers' mother, a VERY ambitious woman and her aid take the story to the press and it makes the front page. Mayhem ensues as the pushy mum tries to put a spanner in the works!
The musical is colourful and funny with plenty of songs you can sing along with including In the Country, Summer Holiday, Travellin' Light, Bachelor Boy, Move It, Living Doll, The Young Ones and On the Beach .
Current Dancing on Ice Champion of Chanpions Ray Quinn who was a runner up in The X Factor in 2006 and has since starred as Danny Zuko in Grease and taken roles in Dirty Dancing, Legally Blonde and The Wedding Singer is to star as Don with Bobby Crush playing the role of Jerry the agent for the first eight weeks of the UK tour. More casting news to follow.

Directed and choreographed by Racky Plews, Summer Holiday will make its first stop at the Liverpool Empire in May ahead of a UK tour that will continue through 2018 and into 2019. Below are the tour dates we have far with more to follow .

| | | |
| --- | --- | --- |
| Liverpool Empire | 8-12 May | |
| Milton Keynes | 15-19 May | |
| Woking New Victoria | 22-26 May | |
| York Opera House | 29 May-2 June | |
| Bromley Churchill | 5-9 June | |
| Birmingham New Alexandra | 12-16 June | |
| Edinburgh Playhouse | 19-23 June | |
| Plymouth Theatre | 26-30 June | |
| Brighton Theatre Royal | 17-21 July | |
| Blackpool Winter Gardens | 24-28 July | |
| Leeds Grand | 31 July-4 August | |
| Cardiff Millennum Centre | 14-18 August | |
| Southend Cliffs Pavilion | 23-27 August | |
| Dartford Orchard | 4-8 September | |
| Chester Story House | 11-15 September | |
| Wimbledon New | 18-22 September | |
| Stoke Regent | 2-6 October | |
| Aylesbury Waterside | 23-27 October | |
| Glasgow King's | 30 October-3 November | |