SPAMALOT TOUR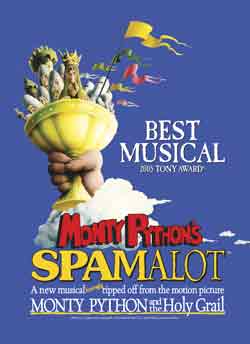 Very loosely based on the 1975 film Monty Python and the Holy Grail, Spamalot tells the tale of King Arthur and the Knights of the Round Table and their quest to find the fabled relic. It features a chorus line of dancing divas (with serfs), flatulent Frenchmen, killer rabbits and a legless knight.
The West End production ran at the Palace Theatre for three years from September 2006 to January 2009 with a succession of King Arthurs, including Tim Curry, Simon Russell Beale and Peter Davison.
Marcus Brigstocke is King Arthur, Bonnie Langford is Lady of the Lake and Todd Carty is playing Patsy who is King Arthur's hapless assistant who sings "Always Look on the Bright Side of Life" and follows the King everywhere.
They will be joined by Robin Armstrong as Sir Bedevere, Rob Delaney as Sir Robin, Kit Orton as Sir Lancelot and Jon Robyns as Sir Galahad along with Adam Ellis, Amelia Adams Pearce, Tim Bonser, Michael Burgen, Rachel Knowles,Hannah Malekzad, James Nelson and Niall Sheehy.
The touring production of Spamalot ended on 26th May 2012 and is set to move into the Harold Pinter Theatre in London's West End on 23rd July for a limited run until 3rd September 2012.