SPAMALOT THE MUSICAL TOUR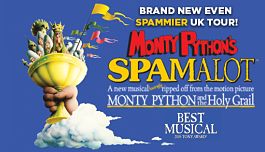 Spamalot is back in a brand-new production from Selladoor Productions. It will open on Friday 8th September 2017 at Blackpool before embarking on a UK tour for 2017/2018. The co-production with Colchetser Mercury Theatre in Colchester will then tour the UK before visiting South Korea in June.
Spamalot the musical last ran in London's West End at the Playhouse Theatre until April 2014 with the last tour ending in July 2015..
Very loosely based on the 1975 film Monty Python and the Holy Grail, Spamalot tells the tale of King Arthur and the Knights of the Round Table and their quest to find the fabled relic.
It features a chorus line of dancing nuns (with serfs), ferocious and flatulent Frenchmen, killer rabbits and a legless knight.
Join King Arthur as he travels around the land gathering his Knights of the Round Table. This band of hapless adventurers is then tasked with a divine mission to locate the illusive Holy Grail – with uproarious consequences accompanied by comic tunes including Brave Sir Robin, We're Knights of the Round Table and perennial favourite Always Look on the Bright Side of Life.
Spamalot was the winner of the 2005 Tony Award for Best New Musical,written by Python legend Eric Idle. He wrote the score alongside John DuPrez, who is famous for his work on Monty Python's The Meaning of Life amongst a host of other big-name scores.
The new tour is produced by Selladoor Productions and the Mercury Theatre Colchester. Selladoor's recent tours include Footloose, American Idiot, Avenue Q and Little Shop of Horrors. Directed by Daniel Buckroyd, initial casting includes: Bob Harms, Sarah Harlington, Marc Akinfolarin, Norton James, Matthew Pennington and Gleanne Purcell-Brown.
Below are the dates we have so far with more venues and casting news to follow.
| | | |
| --- | --- | --- |
| Blackpool Opera House | 8 - 16 September | |
| Bridlington Spa | 18-23 September | on sale soon |
| Edinburgh King's | 25-30 September | |
| B irmingham New Alexandra | 3-7 October | |
| Sunderland Empire | 10-14 October | |
| Exeter Northcott | 23-28 October | on sale soon |
| Chester Storyhouse | 30 October-4 November | on sale soon |
| Manchester Palace | 7-11 November | |
| Woking New Victoria | 14-18 November | |
| Wimbledon New | 21-25 November | |
| Buxton Opera House | 15-20 January 2018 | on sale soon |
| Hxagon Reading | 29 January-3 February | |
| Portsmouth New Theatre Royal | 19-24 February | on sale soon |
| Coventry Belgrade Theatre | 26 Febuary- 3 March | on sale soon |
| Malvern Festival Theatre | 5-10 March | on sale soon |
| Billingham Forum | 12-17 March | on sale soon |
| Basildon Towngate | 26-31 March | on sale soon |
| Wirral Floral Pavilion | 2-7 April | on sale soon |