SAVE THE LAST DANCE FOR ME TOUR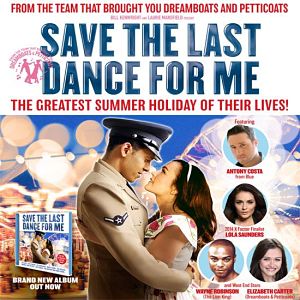 Save the Last Dance for Me is by Laurence Marks and Maurice Gran who wrote the hit West End musical Dreamboats & Petticoats and were also responsible for Goodnight Sweetheart, Birds of a Feather, The New Statesmen and Shine On Harvey Moon.
This is the second tour Bill Kenwright is producing of this musical which takes you on a nostalgic journey through the golden era of the early 60's following two teenage sisters, Jennifer and Marie, through the summer of 1963.
When they go on a family holiday to a traditional seaside town they find much more than just sea and sand when they meet a handsome American airman, who invites them to a dance at the nearby United States Air force base.
 Young love and holiday romance is never simple and the sisters soon realise that being in love is far more complicated than they realised.
The cast for the tour of Save the Last Dance for Me includes Kieran McGinn/Curtis: Elizabeth Carter/Marie: Lee Honey-Jones/Milton: Sally Peerless/Mildred: Alan Howell/Carlo: Niamh Bracken/Della: Hannah Nicholas/Catherine: Joe McCourt/Clyde: Stewart McCheyne/Elvis: Chris Coxon/Johnny: Mike Kantola/Marvin: Greg Davidson/Cookie: Josef Pitura Riley/Donnie and Emma Jane Morton as ASM/Swing.
THIS TOUR ENDED ON 23RD NOVEMBER 2013