SAVE THE LAST DANCE FOR ME TOUR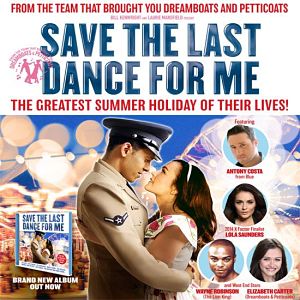 A new 2016 tour of Save the Last Dance for Me has been announced. It is by Laurence Marks and Maurice Gran who wrote the hit West End musical Dreamboats & Petticoats and were also responsible for Goodnight Sweetheart, Birds of a Feather, The New Statesmen and Shine On Harvey Moon.
This is the third tour Bill Kenwright is producing of this musical which takes you on a nostalgic journey through the golden era of the early 60's following two teenage sisters, Jennifer and Marie, through the summer of 1963.
When they go on a family holiday to a traditional seaside town they find much more than just sea and sand when they meet a handsome American airman, who invites them to a dance at the nearby United States Air force base.
 Young love and holiday romance is never simple and the sisters soon realise that being in love is far more complicated than they realised.
Antony Costa from the boyband Blue is playing the leading role of Milton with more casting details to follow soon.
| | | |
| --- | --- | --- |
| Windsor Theatre Royal | 5-9 April 2016 | Buy tickets |
| Wimbledon Theatre | 12-16 April 2016 | |
| Malvern Festival Theatre | 18 - 23 April | |
| Stoke Regent Theatre | 25 – 30 April | Buy tickets |
| Glasgow Kings Theatre | 3 – 7 May | |
| Sunderland Empire | 9 – 14 May | |
| Birmingham Alexandra Theatre | 16 – 21 May | |
| Milton Keynes Theatre | 23 – 28 May | |
| Blackpool Opera House | 31 May - 4 June | |
| Liverpool Empire | 6 – 11 June | |
| Leeds Grand | 13 - 18 June | |
| Cheltenham Everyman | 20-25 June | |
| Manchester Palace | 27 June – 2 July | |
| Tunbridge Wells Assembly Hall | 4-9 July | |
| Swansea Grand | 11 - 16 July | |
| Oxford New Theatre | 18 – 23 July | |
| Cardiff New Theatre | 25-30 July | |
| Bromley Churchill | 1-6 August | |
| Llandudno Venue Cymru | 8-13 August | |
| Weston Super Mare Playhouse | 15-20 August | |
| Truro Hall for Cornwall | 29 August-3 September | |