ROCK N ROLL PARADISE TOUR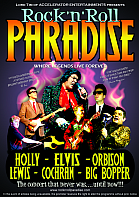 Rock 'n' Roll Paradise is a rock 'n' roll show where the music plays the leading role which is now in its fifth year on the road, with a cast that brings you the show that never happened in the golden era of rock and roll, but delivered with all the flair of a 21st century live concert.
Featuring Elvis Presley, Jerry Lee Lewis, Buddy Holly, Roy Orbison, the Big Bopper and Eddie Cochran, as these icons of rock and roll join each other on stage for this musical extravaganza. Rock 'n' Roll Paradise has something for everyone in this feel-good, two hour celebration of the magic of rock and roll, with over 40 songs packed into this roof raising critically acclaimed show.
Click here for a full list of tour dates for Rock 'n' Roll Paradise