RENT IN CONCERT TOUR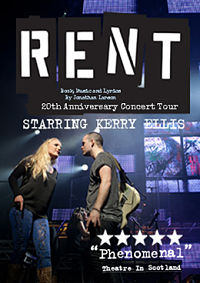 Celebrating 20 years since its first staged performance Rent in Concert is going on tour again this year.
Winner of the Tony Award for Best Musical Rent is about falling in love, finding your voice and living for today. Based loosely on Puccini's La Boheme, the show follows a year in the life of a group of friends struggling to make it in the big city under the shadow of HIV/AIDS.
The show last toured the UK in April this year, performing 10 dates to rave reviews – and due to overwhelming public demand the show is back for a second run.
The second tour finished at the end of November but a third and final leg restarts at the Hackney Empire in January with Kerry Ellis returning to the show as Mimi. She will be joined by Rory Taylor (Roger): Paul Ayres (Mark): Lisa-Marie Holmes (Joanne): Ian Stroughair (Angel): Mykal Rand (Collins): Kenny Thompson (Benny) and Ruthie Stephens (Maureen). With ensemble members Tim Prottey Jones, Joel Harper-Jackson, David Hinton-Gale, Beth Humphries and Kate England
THIS TOUR ENDED ON SATURDAY 15TH FEBRUARY 2014