PRISCILLA QUEEN OF THE DESERT TOUR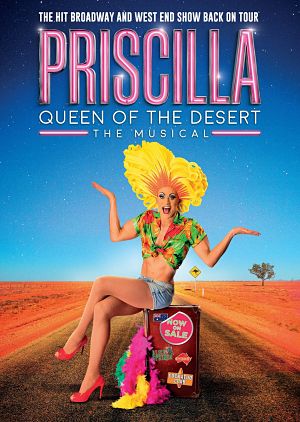 Due to overwhelming demand a new tour of Priscilla Queen of the Desert is due to open this autumn. the Musical is based on the Oscar® award-winning film starring Terence Stamp and Guy Pearce.
It tells the story of Tick (played by Duncan James from Blue and Jason Donovan ),Bernadette and Adam: two gay men and a transexual woman who are a very glam performing trio who live in Sydney but want to take their show to the middle of the Australian outback.
Duncan James@@ from Blue/Jason Donovan** and Darren Day are all alternating the role of Tick as indicated below. Jason will return as Tick (a role he has played in the West End and on tour). They will be joined by Simon Green as 'Bernadette', Adam Bailey as 'Felicia' and Philip Childs as 'Bob'/(Gavin Mitchell for Edinburgh dates). They are joined by: Richard Astbury; Rebecca Botterill; Matt Crandon; Peter Cumins; Amy Di Bartolomeo; Martin Harding; Lisa-Marie Holmes; Ricky Lee Loftus; Adam Lyons; Callum MacDonald; Laura Mansell; Catherine Mort; James Paul McAllister; Robin Mills; Craig Ryder; Naomi Slights and Julie Yammanee. 
Priscilla is a heart-warming and uplifting adventure of the three friends' search for love and friendship on a battered old bus (Priscilla). But they end up finding more than they could ever have dreamed of.
The show has some fabulously outrageous costumes plus loads of dance-floor classics including What's Love Got To Do With It, I Love The Nightlife, I Will Survive, Pop Muzik, Girls Just Wanna Have Fun, Hot Stuff, MacArthur Park, Boogie Wonderland and Finally.
Because to the adult content of this show, parental guidance is recommended for children 15 years and under.
THIS TOUR ENDED ON 18TH JUNE 2016