PRISCILLA QUEEN OF THE DESERT TOUR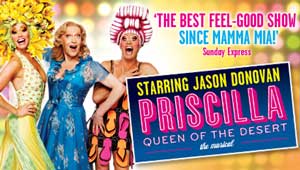 Priscilla Queen of the Desert the Musical is based on the Oscar® award-winning film starring Terence Stamp and Guy Pearce.
It recently played to great success in London West End at the Palace Theatre ending its run at the end of 2011. Written by Stephan Elliott and Allan Scott, Priscilla Quen of the Desert is about to embark on the UK tour.
It tells the story of Tick, Bernadette and Adam: two gay men and a transexual woman who are a very glam performing trio who live in Sydney but want to take their show to the middle of the Australian outback.
Priscilla is a heart-warming and uplifting adventure of the three friends' search for love and friendship on a battered old bus (Priscilla). But they end up finding more than they could ever have dreamed of.
Jason Donovan is playing the role of Tick/Mitzi. Richard Grieve (best known as gay farrier Jonny Foster in Emmerdale) will play Bernadette. He has also appeared in the show in the West End playing Tick/Mitzi. Graham Weaver is Felicia (he originally understudied the role in the London production).
They will be joined by Giles Watling/Bob: Julie Stark/Marion: Emma Kingston/Diva: Ellie Leah/Diva/Shirle:, Laura Mansell/Diva: Alan Hunter/Miss Understanding: Regan Shepherd/Farrah/Young Bernadette/Ensemble: Frances Mayli Mc Cann/Cynthia: Katie Birtill/Marion and Leon Kay/Frank/Ensemble. Ensemble members James Cohen, Wayne Fitzsimmons, Dann Kharsa, Liam Marcellino, Ashley Rumble, Katie Birtill plus Ian Oswald/Swing/Dance Captain: Aaron Sweeney-Harris/Swing and Bleu Woodward/Swing/Assistant Dance Captain.
The show has some fabulously outrageous costumes plus loads of dance-floor classics including What's Love Got To Do With It, I Love The Nightlife, I Will Survive, Pop Muzik, Girls Just Wanna Have Fun, Hot Stuff, MacArthur Park, Boogie Wonderland and Finally.
Because to the adult content of this show, parental guidance is recommended for children 15 years and under.

THIS TOUR ENDED ON 14TH APRIL 2014