PRISCILLA QUEEN OF THE DESERT TOUR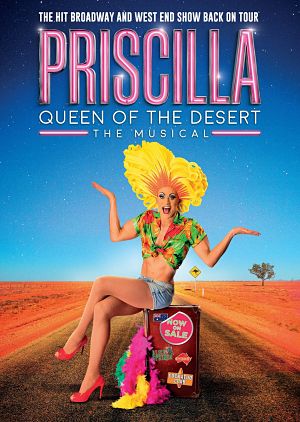 The last UK tour of Priscilla Queen of the Desert ended in 2016, and there is now a new one due to kick off next September. The Musical is based on the Oscar® award-winning film starring Terence Stamp and Guy Pearce.
It tells the story of Tick, ,Bernadette and Adam: two gay men and a transexual woman who are a very glam performing trio who live in Sydney but want to take their show to the middle of the Australian outback.
Priscilla is a heart-warming and uplifting adventure of the three friends' search for love and friendship on a battered old bus (Priscilla). But they end up finding more than they could ever have dreamed of.
The show has some fabulously outrageous costumes plus loads of dance-floor classics including What's Love Got To Do With It, I Love The Nightlife, I Will Survive, Pop Muzik, Girls Just Wanna Have Fun, Hot Stuff, MacArthur Park, Boogie Wonderland and Finally.
Because to the adult content of this show, parental guidance is recommended for children 15 years and under.
Below are the dates we have so far with more venues to follow and casting news still to come.
| | | |
| --- | --- | --- |
| Dartford Orchard Theatre | 5 - 14 September 2019 | |
| Bradford Alhambra Theatre | 17-21 September | on sale 20/8 |
| Rhyl Pavilion | 23-28 September | on sale soon |
| Milton Keynes Theatre | 30 September-5 October | on sale soon |
| New Wimbledon Theatre | 7-12 October | on sale soon |
| Malvern Festival Theatre | 14-19 October | |
| Blackpool Winter Gardens | 21-26 October | |
| Leicester Curve Theatre | 28 October-2 November | on sale soon |
| Edinburgh Playhouse | 4-9 November | on sale soon |
| Liverpool Empire Theatre | 11-16 November | on sale soon |
| Inverness Eden Court | 18-23 November | on sale soon |
| Manchester Palace Theatre | 25-30 November | on sale soon |