MADNESS OUR HOUSE THE MUSICAL TOUR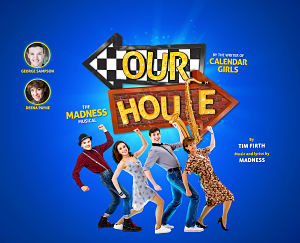 Immersion Theatre Company are producing a new tour of The Madness musical Our House starting this August.
Winner of an  Olivier Award for Best New Musical, Our House was first presented at the Cambridge Theatre in October 2002. The last tour ended in November 2013.
With music by Madness, Our House the Musical is written by Tim Firth (The Girls, Kinky Boots, Preston Front and Neville's Island) with James Tobias directing, Fabian Aloise doing the choreography and Musical Supervision by Mark Crossland.
Set in Camden Town in the mid 80's, The musical tells the story of 16 year old Joe Casey, his mates, his girlfriend Sarah and the night he commits a petty crime to impress her. When the police turn up Joe has to decide whether to run away, or face the music: a choice that will set the course of his life, and his love, forever.
The story is told using classic Madness music including Our House, Baggy Trousers, My Girl, Embarrassment, The Sun and the Rain, Driving in My Car, The Wings of a Dove, Night Boat to Cairo and the all-time classic It Must Be Love.
Casting news so far is that following the unfortunate withdrawal of Linda Nolan. Deena Payne, best known for her role as Viv Hope in ITV's Emmerdale, will take up the role of Kath Casey along with Jason Kadji (Joe Casey) and Sophie Matthew (Sarah). They will be joined by George Sampson (Reecey), Callum McArdle (Dad), Jessica Niles (Angie), Billy Roberts (Emmo), Bobby WIndebank (Mr Pressman), Will Haswell (Lewis), Matthew McDonald (Calum) and Etisyai Philip (Billie) with ensemble members/swings Lottie Henshall, Frances Dee, Michael Nelson and Alex Tranter.
THIS TOUR ENDED AT THE BEGINNING OF 2018