GLORIA ESTEFAN'S ON YOUR FEET TOUR!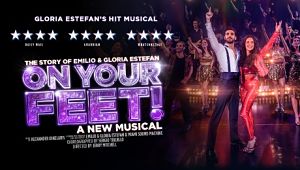 Gloria and Emilio Estefan's smash-hit musical On Your Feet ended for a strictly limited season at London's Coliseum on 31st August and is now about to embark on an extensive UK tour.
On Your Feet! is a jukebox musical based on the lives and music of 26-time Grammy Award-winning husband-and-wife team Gloria and Emilio Estefan. Directed by two-time Tony Award® winner Jerry Mitchell (Kinky Boots, Legally Blonde), with choreography by Olivier Award-winner Sergio Trujillo (Jersey Boys) and book by Academy Award® winner Alexander Dinelaris(Birdman) with a score built around the Cuban-fusion pop music made famous by the duo, including Get on Your Feet, Conga, 1-2-3 and Rhythm Is Gonna Get You. It also features an original song called If I Never Got to Tell You, with lyrics by Gloria Estefan and music by her daughter Emily.
May oLondon cast members will reprise their performance on the tour with Philippa Stefani playing Gloria Estefan: George Ioannides Emilio Estefan and Madalena Alberto will play Gloria Fajardo with Karen Mann as Consuelo.
Completing the cast will be Elia Lo Tauro, Sharif Afifi, Hollie Cassar, Laura Friedrich Tejero, Denzel Giskus, Francesca Lara Gordon, Yonly Leyva Desdunes, Olivia Kate Holding, Francisco Del Solar , Gabriella-Rose Marchant, Martin McCarthy, Alicia Mencía, Ciro Lourencio Meulens, Robert Oliver, Clayton Rosa, Julia Ruiz Fernandez, Dawnita Smith, Despina Violari, Nathan Zammit and Alain Zambrana Borges.

Below are the UK tour dates we have so far with further West End dates to be confirmed :
To help prevent the spread of coronavirus (COVID-19), we are sorry to confirm that all performances of this tour are cancelled up to 28 June 2020 when the situation will be reviewed.