TOUR OF OLIVER! THE MUSICAL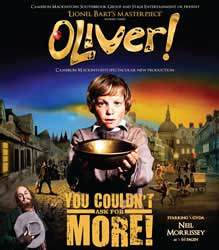 Oliver the musical recently finished a succesful run in London's West End and is now on tour with Neil Morrissey playing the role of Fagin.
He is joined by Samantha Barks as Nancy, Iain Fletcher is Bill Sikes, Jack Edwards/Mr Bumble, Suzie Chard/Widow Corney, Stephen Moore/Mr Brownlow, David Langham/Mr Sowerberry, C J Johnson/Mrs Sowerberry, Stevie Hutchinson/Noah Claypole, Emma Dukes as Bet and Victoria Hay as Charlotte.
The role of Oliver! will be covered by Gwion Jones, Oliver Tritton Wheeler, Sebastian Croft and Harry Polden. Joseph Potter, William Edden and Max Griesbach will play the Artful Dodger.
The members of the ensemble are: Lincoln Hudson, James Gant, Hadrian Delacey, Joe Maxwell, Kade Ferraiolo, Lee Dillon-Stuart, Matt Harrop, Ryan O'Gorman, Annie Wensak, Kara Lane, Claire Parrish, Alison Connell, Sophie Caton, Beth Davies, Mikaela Newton, Paul Farrell, Nicholas Duncan, Sarah Cortez and Mary Fox.
It is based on the novel Oliver Twist which was written by Charles Dickens. It is set in Victorian London and Oliver Twist is an orphan in one of the workhouses. The story starts with all the children going down to have supper when Oliver utters the immortal words "Please Sir, can I have some more".
Oliver is sold to an undertaker and runs away, eventually being found by the Artful Dodger who takes him to Fagin who takes him into his gang and teaches him to become a pickpocket.
The violent Bill Sikes, his dog Bullseye and girlfriend Nancy also feature in the plot which takes some violent twists and turns until Oliver is eventually given the home he deserves.
Oliver! has some huge dance routines and lavish show tunes. The score includes Lionel Bart's well known songs including Food Glorious Food, Consider Yourself, You've Got to Pick-a-Pocket or Two, I'd Do Anything, Oom Pah Pah, and As Long As He Needs Me.
Due to licensing issues the boy performing Oliver cannot be decided until shortly before the performance starts.
Music & lyrics by Lionel Bart, based on the original production by Sam Mendes, Co-Directed & Choreographed by Matthew Bourne and Directed by Rupert Goold (Best Director, 2008 Olivier Awards)
THIS TOUR ENDED ON 24TH FEBRUARY 2013