MISS SAIGON TOUR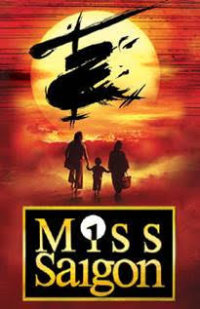 Cameron Mackintosh has announced that his  new production of  MISS SAIGON  is to embark on a major UK tour opening at the Leicester Curve in July.
The revival production, directed by Laurence Connor, opened at the Prince Edward Theatre in the West End in 2014. Originally opening on the West End in 1989, Miss Saigon is written by Alan Boublil and Claude-Michel Schönberg and is the tale of a love-story set in Vietnam during the war, loosely inspired by the opera Madame Butterfly. It tells the tragic tale of a doomed romance in 1970s Saigon between a Vietnamese bar girl and American GI .
Red Concepcion will play 'The Engineer', Sooha Kim is 'Kim', Ashley Gilmour 'Chris', Zoë Doano 'Ellen'/Elana Martin from 30th April and Gerald Santos 'Thuy'. Ryan O'Gorman will play 'John', and Na-Young Jeon as 'Gigi'/Aicelle Santos from 30th April . (At certain performances 'The Engineer' will be played by Christian Rey Marbella and 'Kim' will be played by Joreen Bautista).
They are joined by David Allwood, Randy Chien, Vinny Coyle,  Kristine Mae Diaz, Michael James Eborall,  Aynrand Ferrer, Seng Henk Goh, Emily Beth Harrington, Jack Heasman, Tom Hier, Barnaby Hughes, Kamm Kunaree, David Kar-Hing Lee, Amanda Lingdren, Ela Lisondra, Winchester Lopez,  Christian Rey Marbella, Jay Marsh, Tom Mussell,  Thao Nguyen, Saori Oda, YoungJoo Park,  Kiel Payton, Katherine Picar, Alistair So, Carl Jae-Suk Sohlberg, Eloisa Amalia Tan, Gavin Tsang, Amadeus Williams, and Gerald Zarcilla. Further new cast members from 30th April include Iroy Abesamis, Jonathon Bentley, Devine Cresswell, Ross Lee Fowkes, Yukina Hasebe, Rob Herron, Jade Ma, Samuel Nicholas, Pierce Rogan, Louis Stockil, Joaquin Pedro Valdes, Brad Veitch, Gabriella Williams, Zheng Xi Yong and Sian Yeo.
Below is the tour schedule and on sale dates we have so far with further venues to be announced soon.
| | | |
| --- | --- | --- |
| Manchester Palace | 21 March-12 May | |
| Bristol Hippodrome | 16 May-23 June | |
| Plymouth Theatre Royal | 4 July-4 August | |
| Norwich Theatre Royal | 15 August-15 September | |
| Bradford Alhambra | 19 September-20 October | |
| Sunderland Empire | 24 October-17 November | |
| Zurich Theatre II | 28 November-13 January 2019 | on sale soon |