MATTHEW BOURNE'S CINDERELLA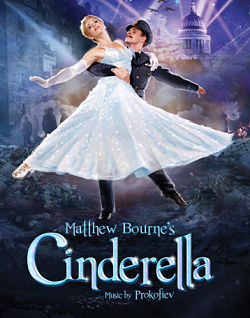 As Part of the company's 30th anniversary celebrations and marking the 20th anniversary of Cinderella's West End appearance, this much loved interpretation of the classic fairytale returns to London's Sadler's Wells this Christmas.
New Adventures' new production of CINDERELLA is a thrilling journey through London during the Second World War.
Matthew Bourne's interpretation of Prokofiev's haunting score offers a true wartime romance when a chance meeting results in a magical night for Cinderella and her dashing young RAF pilot, who are together just long enough to fall in love before being parted by the horrors of the Blitz.
First seen in the West End in 1997, but now completely revised, this brand new production is created to commemorate the 70th anniversary of the London Blitz. It features design by Lez Brotherston who won an Olivier award for his original designs, and new lighting designs by Neil Austin. Cinderella will be performed in Surround Sound, designed by Paul Groothuis. Featuring a specially commissioned new recording of the score, New Adventures will create a cinematic experience, taking the audience into the heart of Prokofiev's magnificent music and the sound world of war-torn London.
Buy tickets for Cinderella which runs at Sadler's Wells this Christmas from 9th December 2017 to 28th January 2018. Performances are Tuesday – Friday 7.30pm with matinees on Saturday 2.30pm & 7.30pm and Sunday 2:oopm and 7:00 pm