MATTHEW BOURNE'S CINDERELLA TOUR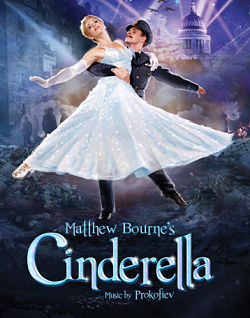 As Part of the company's 30th anniversary celebrations and marking the 20th anniversary of Cinderella's West End appearance, this much loved interpretation of the classic fairytale is embarking on an exenstive tour.
New Adventures' new production of CINDERELLA is a thrilling journey through London during the Second World War.
Matthew Bourne's interpretation of Prokofiev's haunting score offers a true wartime romance when a chance meeting results in a magical night for Cinderella and her dashing young RAF pilot, who are together just long enough to fall in love before being parted by the horrors of the Blitz.
First seen in the West End in 1997, but now completely revised, this brand new production is created to commemorate the 70th anniversary of the London Blitz. It features design by Lez Brotherston who won an Olivier award for his original designs, and new lighting designs by Neil Austin. Cinderella will be performed in Surround Sound, designed by Paul Groothuis. Featuring a specially commissioned new recording of the score, New Adventures will create a cinematic experience, taking the audience into the heart of Prokofiev's magnificent music and the sound world of war-torn London.
Fresh from their triumph playing Victoria Page in "The Red Shoes", the role of 'Cinderella' will be performed by Cordelia Braithwaite and Ashley Shaw. Cinderella's heroic Pilot, 'Harry', will be performed by Will Bozier, Andrew Monaghan and Dominic North.
The Angel' (Cinderella's 'Fairy GodFather') will be danced by Paris Fitzpatrick and Liam Mower.
Sybil', Cinderella's Step-Mother, is performed by Madelaine Brennan, Michela Meazza (London only) and Anjali Mehra. Robert, Cinderella's Father is performed by Alan Vincent and Dan Wright.
Cinderella's Step Brothers and Sisters and the people of 1940's London complete the cast: Steph Billers; João Carolino; Reece Causton; Jackson Fisch; Glenn Graham; Sophia Hurdley; Jack Jones; Nicole Kabera; Kate Lyons; Jamie McDonald; Edwin Ray, Stephen Murray (Former Central School of Ballet/New Adventures Student Associate), Danny Reubens; Katie Webb and Seren Williams.
THIS TOUR ENDED ON 23RD JUNE 2018