LITTLE SHOP OF HORRORS TOUR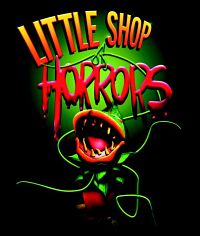 Sell a Door Theatre Company (Avenue Q, The History Boys, American Idiot and Seussical the Musical) are presenting a new tour of LITTLE SHOP OF HORRORS, the kooky and hilarious 1950s musical sci-fi spoof this autumn
Seymour Krelborn, the assistant at Mushnik's Flower Shop in downtrodden Skid Row, becomes an overnight sensation when he discovers a strange and exotic plant. He names it Audrey Two in order to impress glamorous Audrey, the colleague he's secretly in love with.
Audrey Two quickly starts to wilt, putting Seymour's job and dream future with Audrey at risk. Accidentally pricking his finger, Seymour discovers Audrey Two needs a little more than plant food to thrive. The plant grows into a bad-tempered, foul-mouthed carnivore whose voracious appetite becomes increasingly difficult to satisfy. How far will Seymour go for the woman of his dreams? With music by the legendary Alan Menken, best known for his numerous Walt Disney film scores, Little Shop of Horrors is a cult film and one of the longest running off-Broadway shows of all time.
Sam Lupton (Boq in Wicked, West End, Avenue Q, UK Tour) is Seymour, Stephanie Clift (Mamma Mia!, West End) as Audrey, Paul Kissaun (Calamity Jane, Fiddler on the Roof, UK Tours) as Mushnik, Sasha Latoya (Rent, Greenwich Theatre, Britain's Got Talent) as Crystal, Vanessa Fisher (Hairspray, UK Tour) as Chiffon, Cassie Clare (Cats, West End) as Ronnette and Josh Wilmott (Spamalot, We Will Rock You, UK Tours) as Audrey II. They will be joined by  Phil Adele, Stephanie McConville and Neil Nicholas
The production will be directed by Tara Wilkinson, with choreography by Matthew Cole and musical supervision from Mark Crossland.

THIS TOUR ENDED ON 26TH NOVEMBER 2016