LES MUSICALS TOUR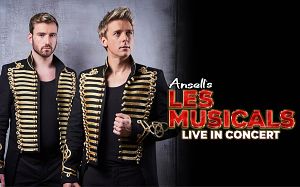 The new Les Musicals live concert tour presents the biggest hit songs from the West End and Broadway

​Musical Theatre's leading men and X Factor stars; Jonathan Ansell (G4 frontman) and Rhydian Roberts have joined forces f to create a very special, dramatic concert. This vocally dynamic evening showcases hit songs from the greatest musicals of all time, brought to you by two of the best voices in the business.

It includes classics from shows including Les Miserables, Phantom Of The Opera, Blood Brothers, Wicked, Jesus Christ Superstar, Carousel, West Side Story, The Lion King, Miss Saigon, Chess, Rocky Horror Show and We Will Rock You.
Below are the tour dates we have so far with the show proving so popular that it will restart in 2019.
| | | |
| --- | --- | --- |
| Derry Everglades Hotel | 11 October | |
| Belfast Stormont Hotel | 12 October | |
| Belfast Culloden Estate | 13 October | |
| Felixstowe Spa Pavilion | | |
| Peterborough Cresset | 7 May | |
| Basildon Towngate | 8 May | |
| Hastings White Rock | 9 May | |
| Richmond Theatre | 10 May | |
| Tunbridge Wells Assembly Hall | 13 May | |
| Portsmouth Theatre Royal | 14 May | |
| Swindon Wyvern | 15 May | |
| Folkestone Leas Cliff Hall | 16 May | |
| Clacton Princes Theatre | 17 May | |
| Woking New Victoria | 20 May | |
| Shrewsbury Theatre Severn | 21 May | |
| Dunstable Grove | 22 May | |
| Cheltenham Town Hall | 23 May | |
| Poole Lighthouse | 24 May | |
| Eastleigh Concorde Club | 25 May | |
| Lincoln Theatre Royal | 28 May | |
| Scarborough Spa | 29 May | |
| Whitley Bay Playhouse | 30 May | |
| Burnley Mechanics | 31 May | |
| Billingham Forum | 1 June | |
| Blackpool VIVA | 4 June | |
| Stirling Albert Halls | 5 June | |
| Aberdeen Tivoli Theatre | 6 June | |
| Dundee The Whitehall | 7 June | |
| Carlisle Sands Centre | 8 June | |
| Stoke Regent | 11 June | |
| Rhyl Pavilion | 12 June | |
| Aberystwyth Arts Centre | 13 June | |
| Llanelli Ffwrnes Theatre | 14 June | |
| Newport Riverfront | 15 June | |
| Torquay Princess | 18 June | |
| Redruth Regal | 19 June | |
| Weston super Mare Playhouse | 20 June | |
| Yeovil Octagon | 21 June | |
| Barnstaple Queens Theatre | 22 June | |
| Brighton Theatre Royal | 25 June | |
| Bury St Edmunds Apex | 26 June | |
| Kings Lynn Corn Exchange | 27 June | |
| Hull City Hall | 28 June | |
| Leeds City Varieties Music Hall | 29 & 30 June | |
| Guernsey Beau Sejour | 2 & 4 October | |
| Jersey Opera House | 5 October | |
| Cardiff St David's Hall | 7 October | |
| Newtown The Hafren | 11 October | |
| Swansea Brangwyn Hall | 12 October | |
| Loughborough Town Hall | 18 October | |
| Ellesmere Port Civic Hall | 19 October | |
| Lowestoft Marina Theatre | 23 October | |
| Chatham Central Theatre | 24 October | |
| Skegness Embasssy Theatre | 25 October | |