LEGALLY BLONDE THE MUSICAL TOUR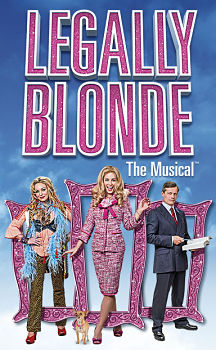 Legally Blonde the Musical is going on an extensive new UK tour opening at the Churchill Theatre in Bromley in September ..
The show is based on the hit movie of the same name starring Reese Witherspoon.
Legally Blonde the Musical  tells the story of college sweetheart Elle Woods who doesn't take no for an answer. So when boyfriend Warner dumps her for someone else she stops shopping, starts reading and heads for Harvard Law School with her chihuahua  Bruiser
Legally Blonde the Musical is Directed and Choreographed by Anthony Williams, with Co-Choreographer Dean Street and Musical Supervision by James McCullagh.
Casting so far is that Rita Simons (best known as Roxy Mitchell in EastEnders) will make her musical theatre debut playing Paulette Bonafonte, the manicurist looking for love with the iconic "Bend and Snap" number with Bill Ward (Coronation Street, Emmerdale, Million Dollar Quartet and Viva Forever!) as Professor Callahan the unpleasant middle-aged professor at Harvard Law School. Lucie Jones, who represented the UK in the last Eurovision Song Contest is playing Elle Woods
Also in the cast are: David Barrett (Emmett Forrest), Liam Doyle (Warner Huntington III), Laura Harrison (Vivienne Kensington), Helen Petrovna (Brooke Wyndham), Ben Harlow (Kyle), Nancy Hill (Enid), Rebecca Stenhouse (Margot), Delycia Belgrave (Pilar), Rachel Grundy (Serena), Lucyelle Cliffe (Elle's Mom), Rosie Needham (Kate Chutney), Alexandra Wright (Leilana), Sally Frith (Gaelen), Mark Peachey (Elle's Dad/Winthrop/Dewey), Michael Hamway (Aaron), Felipe Bejarano (Sundeep/Nikos), Brett Shiels (Grand Master Chad), Connor Collins (Carlos), Emma Prosser (Swing) an Craig Tyler (Swing), Legally Blonde The Musical also has two dogs in the cast, a Chihuahua called Bruiser and another called Rufus, a big, brutish, dog that only its mother could love! Bruiser is already cast and will be on the road but producers have decided to hold auditions for 'Rufus' in every town and city on the tour.
THIS TOUR ENDED ON 14th JULY 2018