LA CAGE AUX FOLLES TOUR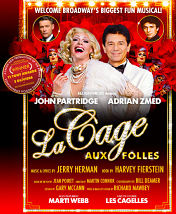 Bill Kenwright is presenting a tour of a major new production of the West End and Broadway Award Winning Musical Extravaganza La Cage Aux Folles.
With a Book by Harvey Fierstein and Music and Lyrics by Jerry Herman this is a funny tale of unconditional love and family values, with a show-stopping score that includes The Best of Times, Song on the Sand and I Am What I Am.
Georges and the dazzling drag artiste Albin, star of La Cage aux Folles, live an idyllic existence in the heart of St Tropez. But behind the curtains of this sparkling extravaganza, all may be about to change. Georges' son Jean-Michel announces his engagement to the daughter of a notorious right-wing politician determined to close down the local colourful night-life. Jerry Herman's musical, based on the French play of the same name, is the story of a flamboyant gay couple who must pretend to be straight for one night — with one of the men in drag — to dupe the conservative political family of their son's fiancee. Drama and hilarity ensue when a meeting of the parents forces them to cover up their vibrant lifestyle. Will Albin be able to play the role of his life to ensure that Jean-Michel can marry his love?
The musical which will be directed by Martin Connor and choreographed by Bill Deamer. JOHN PARTRIDGE is playing 'Albin' and ADRIAN ZMED is 'Georges'. MARTI WEBB will play 'Jacqueline', friend to Albin  and Georges, and owner of the restaurant 'Chez Jacqueline'. They will be joined by Dougie Carter as 'Jean-Michele', Samson Ajewole as 'Jacob', Su Douglas as 'Marie/Madame Renaud', Alexandra Robinson as 'Anne', Paul F Monaghan as 'Dindon / Renaud', and Jon De Ville as 'Francis'. with Les Cagelles Jordan Livesey, Matthew Ives, Louie-George Daniels, Liam Paul Jennings, Micah Holmes and Richard Leavey. Completing the cast are Luke Byrne, Jane Quinn, and Rachel Cumino.
THIS TOUR ENDED ITS RUN ON 26TH AUGUST 2017