HIGH SOCIETY TOUR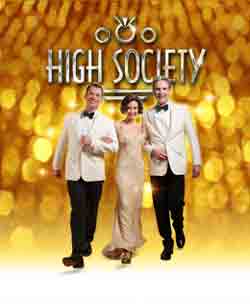 High Society has music and lyrics by Cole Porter and is based on the play The Philadelphia Story .
The 1956 film starred Bing Crosby, Grace Kelly and Frank Sinatra. The musical High Society includes some real classics uncluding True Love, You're Sensational and Well, Did You Evah!

The story is set in 1938 on Long Island when socialite Tracy Lord is planning a June wedding to a pretentious executive, but ex-husband Dexter Haven arrives to disrupt the proceedings. Comic complications arise when reporter Mike Connor who is there to cover the wedding also falls for Ms Lord.

As the day of the wedding draws closer you are left guessing which groom the bride will choose!
The production stars Michael Praed as Dexter Haven with Sophie Bould as Tracy Lord, Daniel Boys as Mike Connor, Teddy Kempner as Uncle Willie, Keiron Crook as George Kittredge, Marilyn Cutts as Margaret Lord, Alex Young as Liz Imbrie, Craig Pinder as Seth Lord and introducing Katie Lee as Dinah Lord

They are joined by Jill Armour, Steven Butler, Matt Corner, Zoe Doano, Carol Heffernan, Lucy James, Ashley Knight, Anthony McGill, Ben Redfern and Rachel Spurrell.

The director is Anna Linstrum, set and costume design Francis O'Connor, lighting design Chris Davey, sound design Ben Harrison and musical director Michael Haslam.

| | | |
| --- | --- | --- |
| Venue | Dates | |
| Southend Cliffs Pavilion | 21st-25th May | |
| Belfast Grand Opera House | 28th May-1st June | |
| Nottingham Theatre Royal | 4th-8th June | |
| Sheffield Lyceum | 11th-15th June | |
| Eastbourne Congress | 18th-22nd June | |
| High Wycombe Swan | 25th-29th June | |
| Norwich Theatre Royal | 1st-6th July | |
| Guildford G Live | 9th-13th July | |