GOODNIGHT SWEETHEART THE MUSICAL TOUR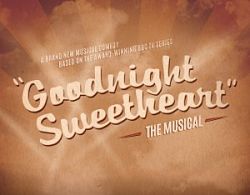 Laurence Marks and Maurice Gran are presenting the world premiere of GOODNIGHT SWEETHEART: THE MUSICAL. This is a brand new musical comedy with a tour starting in September based on the award-winning BBC TV series.
Creators Laurence Marks and Maurice Gran say: "This will be a small-scale production by an enterprising theatre company. We hope that a major West End show will follow in 2019."
Featuring hits from the 1980's and 1940's including With A Little Help From My Friends, Boogie Woogie Bugle Boy, Time After Time, Addicted to Love, Puttin' On The Ritz, Just The Way You Are, In The Mood and many more this is a new musical comedy from writers Laurence Marks and Maurice Gran that gave us The New Statesmen, Shine of Harvey Moon and Birds of a Feather and the hit musical, Dreamcoats and Petticoats.

Running for six hugely successful seasons between 1993 and 1999 and starring Nicholas Lyndhurst, Goodnight Sweetheart became an instant classic when it was first broadcast. With its incomparable mix of comedy and drama, it became a firm favourite gaining fans worldwide.

Gary Sparrow is an ordinary man with an extraordinary life; almost a devoted and attentive husband and a sometimes loyal and dependable best friend. By day, a very bored and uninspired TV repairman but by night, an accidental time traveller extraordinaire.Whilst walking around the East End of London, Gary stumbles across a strange alley, Duckett's Passage, and is transported back in time to a foggy, war torn London, to barrage balloons and the Blitz and in particular to a little pub called The Royal Oak and a pretty barmaid called Phoebe... Leading an extraordinary 'double life', Gary is unprepared for the complications in his love life when he falls for Phoebe in the 1940's whilst being married to Yvonne in the present day. But when the time comes to choose, which way will he go?

THIS PRODUCTION ENDED ITS RUN ON 22ND SEPTEMBER 2018