GHOST THE MUSICAL TOUR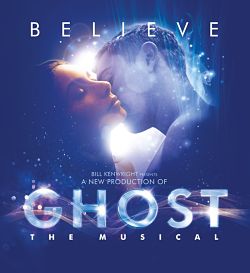 Bill Kenwright is producing a tour of musical Ghost, which will feature new music and an expanded book. Ghost originally ran  at the Piccadilly Theatre from June 2011 to October 2012 and then toured the UK into 2014.
Ghost is story all about the power of love. Couple Sam and Molly (played in the film by the late Patrick Swayze and Demi Moore) are mugged one night on the way home to their apartment and Sam dies on the dark street. He becomes trapped as a ghost between this world and the next, unable to leave Molly who he learns is in grave danger. With the help of a phoney psychic, Oda Mae Brown (played in the film by Whoopi Goldberg), he tries to communicate with Molly in the hope of saving and protecting her.
It has the very moving and intimate scene that everyone remembers with Molly at her potter's wheel with Sam appearing as a ghost and helping her throw a pot to the background music of The Righteous Brothers' Unchained Melody.
Bruce Joel Rubin had adapted his screenplay for the stage and new music and lyrics have been provided by Grammy Award winners Dave Stewart (Eurythmics) and Glen Ballard: writer of Michael Jackson's Man In The Mirror and producer of artists including Michael Jackson, Aerosmith, Van Halen and Alanis Morissette.Carolyn Maitland is to play Molly alongside Andy Moss who continues in the role as Sam which he played last year opposite Sarah Harding from Girls Aloud. The rest of the cast includes Jacqui Dubois as Oda Mae Brown, Sam Ferriday as Carl, Leo Sene as Willie, James Earl Adair as Hospital Ghost, Gary Lee Netley as Subway Ghost, Tarisha Rommick as Louise and Simbi Akande as Clara with  Lori Baker, Ethan Bradshaw, Lauren Drew, Matthew Vinetot, Mike Ward and Kelly Hampson (understudy Molly).
Bob Tomson is the Director, with Alistair David as Choreographer and Tim Whiting Musical Director. Design is by Mark Bailey with lighting by Nick Richings and sound by Dam Samson.
THIS TOUR ENDED ON 29TH APRIL 2017