GANGSTA GRANNY TOUR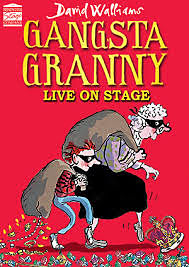 The world premiere of David Walliams' best selling childrens' book Gangsta Granny is to tour the UK again next year.
It's Friday night and Ben knows that means only one thing – staying with Granny! There will be cabbage soup, cabbage pie and cabbage cake and Ben knows one thing for sure – it's going to be sooooooooo boring! But what Ben doesn't know is that Granny has a secret – and Friday nights are about to get more exciting than he could possibly imagine, as he embarks on the adventure of a lifetime with his very own Gangsta Granny!
Birmingham Stage Company (the acclaimed producers of Horrible Histories) is delighted to bring to the stage this wonderful new production based on the popular book by best-selling children's author David Walliams.

THIS TOUR ENDED ITS RUN IN AUGUST 2018