FUNNY GIRL TOUR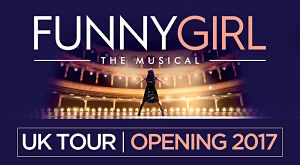 Following its opening at the Menier Chocolate Factory and run at the Savoy Theatre in London's West End Funny Girl the musical is going on a national tour
It has music by by Jule Styne, lyrics by Bob Merrill and book by Isobel Lennart, the Broadway smash starred Omar Sharif and Barbra Streisand, playing Fanny Brice: the girl who rose from the Lower East Side of New York to become one of Broadway's biggest stars under producer Florenz Ziegfield. While she was known as a great comedienne, offstage she faced a doomed relationship with the man she loved. With a score featuring such classic numbers including "People", "You Are Woman, I Am Man" and "Don't Rain on My Parade"
The semi-biographical plot is based on the life and career of Broadway film star, and comedienne Fanny Brice and her stormy relationship with entrepreneur and gambler Nick Arnstein.
Sheridan Smith will reprise her performance as Fanny Brice at selected venues for the UK tour of Funny Girl. She is set to perform in Manchester, Milton Keynes, Liverpool, Bristol, Edinburgh, Birmingham, Newcastle, Southampton, Southend, Cardiff and Dublin. Playing opposite Sheridan Smith on her dates is Chris Peluso as Nick Arnstein The show will extend for a further two weeks, returning to Manchester (on sale soon) to complete its run with Smith and Peluso playing the final dates. 
Natasha J Barnes and Darius Campbell will play Fanny Brice and Nick Arnstein in Stoke, Aberdeen, Woking, Canterbury, Glasgow, Nottingham, Norwich, Llandudno, Wolverhampton and Plymouth. They played these roles in the West End with Barnes covering for Smith when she was indisposed.

They are joined by Nigel Barber (Florenz Ziegfeld), Zoë Ann Bown (Mrs. Meeker), Martin Callaghan (Mr. Keeney), Jennifer Harding (Emma), Rachel Izen (Mrs Brice), Joshua Lay (Eddie) and Myra Sands (Mrs. Strakosh); with Rhianne Alleyne, Kit Benjamin, Lloyd Davies, Flora Dawson, Joseph Dockree, Abigayle Honeywill, Brontë Lavine, David Mcintosh, Peter Nash, Gillian Parkhouse, Tom Partridge, Nova Skipp, Alexandra Waite-Roberts, Sam Wingfield and Alexandra Wright.
THIS TOUR ENDED ITS RUN ON 19TH AUGUST 2017