FLASHDANCE THE MUSICAL TOUR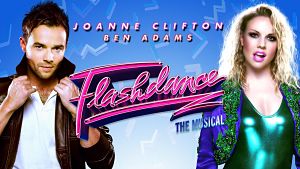 Selladoor  (producers of Footloose, Avenue Q and Little Shop of Horrors) are mounting an extensive UK tour of  FLASHDANCE-THE MUSICAL next year opening at Glasgow King's on 4th August and currently touring through to summer 2018.
Set in Pittsburgh, Flashdance is about the hopes and dreams of 18 year old Alex Owens.  She works in Mawby's Tavern as a "flashdancer" at night and is a welder in a steel mill by day.  Her ambition is to get a place at the prestigious Shipley Dance Academy and become a ballet dancer. When a romance complicates her ambitions, she harnesses it to drive her dream

Some of the classic numbers featured include "Maniac", "Manhunt", "Gloria", "I Love Rock & Roll" and the Academy Award winning title track "Flashdance - What a Feeling" as well as 10 original songs created especially for the musical.

Based on the Paramount Pictures film (Screenplay by Tom Hedley and Joe Eszterhas, story by Tom Hedley) Flashdance is an inspiring musical about the power of holding onto your dreams and love against all the odds. The 1983 film of Flashdance starred Jennifer Beals and launched the torn sweatshirts fashion
Below are the tour dates we have so far with more to come and casting news to follow.

| | | |
| --- | --- | --- |
| Glasgow King's Theatre | 4-12 August 2017 | |
| Aberystwyth Arts Centre | 16-26 August | |
| Southampton Mayflower | 6-9 September | |
| Sunderland Empire | 11-16 September | |
| Oxford New | 18-23 September | |
| Stoke Regent | 25-30 September | |
| Wimbledon New | 2-7 October | |
| Dartford Orchard | 6-14 October | |
| Liverpool Empire | 16-21 October | |
| Blackpool Winter Gardens | 23 October-4 November | |
| Chesterfield Winding Wheel | 8-11 November | |
| Tunbridge Wells Assembly Hall | 13-18 November | |
| Aylesbury Waterside | 20-25 November | |
| York Opera House | 27 November-2 December | |
| Birmingham New Alexandra | 4-9 December | |
| Edinburgh Playhouse | 15-20 January 2018 | |
| Manchester Palace | 12-17 February | |
| Woking New Victoria | 19-24 February | |
| Torquay Princess | 26 February-3 March | |
| Derry Millennium Forum | 19-24 March | |
| Leicester DeMontfort Hall | 26-31 March | |
| Bradford Alhambra | 3-7 April | |
| Brighton Theatre Royal | 9-14 April | |
| Nottingham Theatre Royal | 7-12 May | |
| Carlisle Sands | 21-26 May | |
| Canterbury Marlowe | 18-23 June | |
| Bristol Hippodrome | 25-30 June | |
| Milton Keynes | 16-21 July | |