EVITA TOUR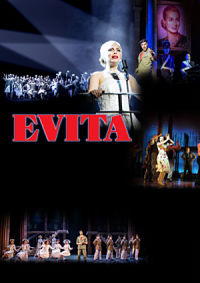 Bill Kenwright is mounting another tour of Tim Rice and Andrew Lloyd Webber's Evita.
It features some of the biggest hit songs ever written, including Don't Cry For Me Argentina, On This Night Of A Thousand Stars, Another Suitcase In Another Hall, I'd Be Surprisingly Good For You, High Flying Adored and Oh What A Circus.
The cast on the last tour which ended on 2nd June 2018 starred two of musical theatre's most outstanding leading performers; Madalena Alberto and Gian Marco Schiaretti, as Che. The cast for the new tour will be Lucy O'Byrne as Evita who rose to fame after reaching the finals of The Voice UK in 2015, she took up the role of Fantine in the West End production of Les Miserables as well as playing Maria in two UK tours of The Sound of Music. Joining her as Argentine dictator Juan Péron is Mike Sterling (The Phantom of the Opera, Les Miserables), alongside Oscar Balmaseda as Magaldi and Cristina Hoey as the Mistress. , Glenn Carter, known for his roles in the stage and screen productions of Jesus Christ Superstar as well as Les Misérables, takes on the role of the revolutionary Ché.
Completing the cast in ensemble roles will be Kellie Gnauck/ understudy Evita, Emmanuel Alba, Verity Burgess, Callum Fitzgerald, Jessica Ellen, Anthony Ray, Riva Grant, Samuel John Humphreys, Bethan Jacks, Joe McCourt, Benjamin McMillan, Chrissie Perkins, Oliver Slade, Chris Stoddart, Mike Ward, Kirsty Whelan, and Yuval Zoref.
Evita tells the life story of the extraordinary Eva Peron (second wife of former Argentine dictator Juan Peron - played by Madonna and Antonio Banderas in the film of the same name) following her acting career, rise to power, charity work, feminist involvement and eventual death. She gained enormous wealth and power during her ultimate rise to sainthood.
The Andrew Lloyd Webber and Tim Rice musical is directed by Bill Kenwright and Bob Tomson, and choreographed by Bill Deamer.
THIS TOUR ENDED ON 17TH NOVEMBER 2019