EVITA TOUR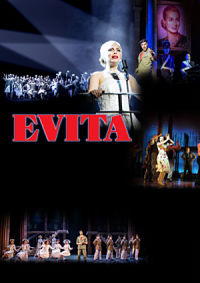 Bill Kenwright is mounting another tour of Tim Rice and Andrew Lloyd Webber's Evita.
It features some of the biggest hit songs ever written, including Don't Cry For Me Argentina, On This Night Of A Thousand Stars, Another Suitcase In Another Hall, I'd Be Surprisingly Good For You, High Flying Adored and Oh What A Circus.
Starring two of musical theatre's most outstanding leading performers; Madalena Alberto returns to the role of Eva, a role she received critical acclaim for in the 2014 West End revival. Other theatre credits include the role of Piaf at the Curve Theatre and Fantine in the 25th Anniversary production of Les Misérables. Joining her in the role of Che, fresh from the recent West End production, is Gian Marco Schiaretti, who also played the title role in Disney's production of Tarzan.Joining them will be Jeremy Secomb as Argentine President Juan Perón. He most recently starred in the theatre production of Sweeney Todd (Barrow Street Theatre) and in the title role on Broadway, prior to which he played Javert in Les Miserables (Queens Theatre) and Phantom in The Phantom of the Opera (Her Majesty's Theatre).

The cast is completed by Oscar Balmaseda/Magaldi, Cristina Hoey/Mistress. They will be joined by ensemble members Kellie Gnauck, Bethan Jacks , Samuel John Humphreys, Benjamin McMillan, Verity Burgess , Riva Grant , Callum Fitzgerald , Joe McCourt , Emmanuel Alba, Yuval Zoref , Oliver Slade , Jessica Ellen , Kirsty Whelan, Anthony Ray and Mike Ward.

Evita tells the life story of the extraordinary Eva Peron (second wife of former Argentine dictator Juan Peron - played by Madonna and Antonio Banderas in the film of the same name) following her acting career, rise to power, charity work, feminist involvement and eventual death. She gained enormous wealth and power during her ultimate rise to sainthood.
The Andrew Lloyd Webber and Tim Rice musical is directed by Bill Kenwright and Bob Tomson, and choreographed by Bill Deamer.
| | | |
| --- | --- | --- |
| Newcastle Theatre Royal | 22-26 May | |
| Grimsby Auditorium | 29 May-2 June | |
| Woking New Victoria | 18-21 July | |
| Brighton Theatre Royal | 30 October-3 November | |
| Portsmouth King's | 13-17 November | |