END OF THE RAINBOW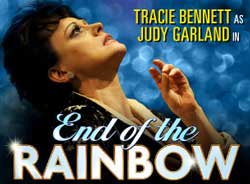 Peter Quilter's End of the Rainbow starring Tracie Bennett as Judy Garland is going on tour. Hilton McRae and Robin Browne will reprise their roles and will be joined by Norman Bowman playing the role of Mickey Denes (Garland's young manager and soon-to-be fifth husband).
End of the Rainbow received four nominations in the 2011 Laurence Olivier Award for Best Actress, Best New Play, Best Actor and Best Sound Design.
End of the Rainbow is a new musical which explores the last days of Miss Garland's life in December 1968 when she was visiting London with her young new fiancé at her side. In a London hotel room she battles with drugs and alcohol as she undertakes an exhausting series of concerts at the Talk of the Town to try and reclaim her crown as the greatest talent of her generation. Sadly until her tragic end she was searching for the crock of happiness at the end of a rainbow that never existed.
Quilter's play is directed by Terry Johnson features some of Garland's best loved songs including  "Get Happy", "Come Rain or Come Shine", "The Trolley Song", "The Man That Got Away" and "Somewhere Over the Rainbow" from the Wizard of Oz.
You can purchase the cast album for End of the Rainbow here.
Tracie Bennett has a long and distinguished career in musical theatre and was last seen in London as Velma von Tussle in Hairspray for which she won the 2008 Olivier Award for the best actress in a supporting role. Prior to that she played Madame Thénardier in Les Miserables.
THIS TOUR ENDED ON 26TH NOVEMBER 2011