DOCTOR DOLITTLE TOUR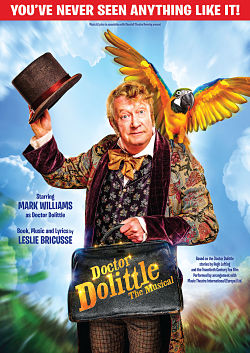 A new production of Leslie Bricusse's Doctor Dolittle will embark on a UK tour produced by Music & Lyrics (The Addams Family, Chitty Chitty Bang Bang, Oklahoma!, Fiddler on the Roof, High Society and The King and I) late next year as part of the 50th anniversary celebrations of the original film starring Rex Harrison.
The new version of the musical features stunning visual puppetry with a reworked book by Bricusse, music and lyrics by Bricusse and copies the 1967 movie of the same name based on the children's stories by Hugh Lofting. The world premiere of the musical opened at the Hammersmith Apollo in July 1998 starring TV presenter and personality Phillip Schofield in the title role and featured animal puppets provided by Jim Henson's Creature Shop. The production also featured the pre-recorded voice of Julie Andrews as Polynesia the parrot. Doctor Dolittle features songs including Academy Award-winning "Talk To The Animals".
Doctor Dolittle tells the story of a doctor who shuns human patients in favour of animals,learning to speak the language of various animals and treats them as patients. Join the eccentric Doctor, his human companions and exotic menagerie of animal friends on an extraordinary adventure to find the Giant Pink Sea Snail that holds the secret of life and making the world a happier place. With help from the Pushmi-Pullyu and his trusty sidekick Polynesia the parrot, he teaches us not only to talk to the animals but to listen to them as well!
Directed by Christopher Renshaw (Le Grand Mort, Zorro, Taboo, We Will Rock You, The King and I), with design by Tom Piper (Associate Designer at the RSC from 2004-2014, and designed installation for the Tower of London poppies and subsequent tours - original concept and Poppies by Paul Cummins), with musical supervision by Mike Dixon (most recent theatre includes Mrs Henderson Presents, Oh What A Lovely War, Bodyguard, Taboo, Hair, Zorro, Never Forget and We Will Rock You).
Bricusse is a Double Academy Award-winner with theatre credits including Pickwick, Scrooge and Victor/Victoria with classic numbers "What Kind of Fool Am I?", "My Old Man's A Dustman" and "Oompa-Loompa-Doompa-Dee-Doo". His film credits include Home Alone, Hook, Goldfinger and You Only Live Twice.
Dr Dolittle will be played by Mark Williams  who is an actor, screenwriter and presenter probably best known as Arthur Weasley in the Harry Potter films, and as one of the stars of BBC's  The Fast Show. He also played Brian Williams in the BBC series Doctor Who, and Olaf Petersen in Red Dwarf. Most recently he has appeared as the title character in the BBC series Father Brown. Williams' previous theatre credits include Fanshen at the National Theatre, Doctor of Honour for Cheek by Jowl and Toast at the Royal Court.
Adèle Anderson, of Fascinating Aïda, is to star as Lady Bellowes/Poison Arrow at the first six venues of the tour – Bromley, Salford, Oxford, Wolverhampton, Newcastle and Hull. They will be joined by Brian Capron, Vicky Entwistle (Richard Hillman and Janice Battersby from Cornoation Street) Mollie Melia-Redgrave and Patrick Sullivan . Brian will play Albert Blossom/Straight Arrow, Vicky is  Polynesia, Mollie is Emma Fairfax and Patrick is Matthew Mugg. Brian Capron and Mark Williams will appear from 9 November – 4 May at Bromley, Salford, Oxford, Wolverhampton, Newcastle, Hull, Aberdeen, Northampton, Nottingham and  Sheffield only. Vicky Entwistle will play the full tour dates.
They will be joined by Harry Cross, Elliot Morris, Quillan O'Meara McDonald, Louis Parker, Thomas Ryan and Elliott Rose who alternate as  Tommy Stubbins (the boy who takes an injured squirrel to Doctor Dolittle and becomes his friend) with ensemble members Femi Akinfolarin, Erica Jayne Alden, Lydia Bannister, Joel Bayliss, Evonnee Bentley-Holder, Jane Crawshaw, Emily Essery, Jacob Fisher,  George Hankers, Catherine Hannay, Evan James, Leon Kay, Emma Lloyd, Ross Meagrow, Owen McHugh, Tom Norman, Emily Ann Potter, Ellie Seaton and Richard Vorster.
This tour is ending earlier than planned and will close at the end of its run at Oxford New Theatre on 26th January 2019
| | | |
| --- | --- | --- |
| Oxford New | 15-26 January | |
| Wolverhampton Grand | 29 January-9 February | CANCELLED |
| Newcastle Theatre Royal | 12-23 February | CANCELLED |
| Hull New | 26 February – 9 March | CANCELLED |
| Aberdeen His Majesty's | 12-23 March | CANCELLED |
| Northampton Royal & Derngate | 26 March - 6 April | CANCELLED |
| Nottingham Theatre Royal | 9 – 20 April | CANCELLED |
| Sheffield Lyceum | 23 April – 4 May | CANCELLED |
| Edinburgh Festival | 14 – 25 May | CANCELLED |
| Bradford Alhambra | 28 May – 8 June | CANCELLED |
| Dublin Bord Gais | 11 – 22 June | CANCELLED |
| Canterbury Marlowe | 9 – 20 July | CANCELLED |
| Glasgow King's | 23 July-3 August | CANCELLED |
| Cardiff MilleniumCentre | 6-17 August | CANCELLED |
| Southampton Mayflower | 20 – 31 August | CANCELLED |
| Blackpool Winter Gardens | 3 – 14 September | CANCELLED |
| Wimbledon New | 17-28 September | CANCELLED |
| Milton Keynes | 8-19 October | CANCELLED |