DOCTOR DOLITTLE TOUR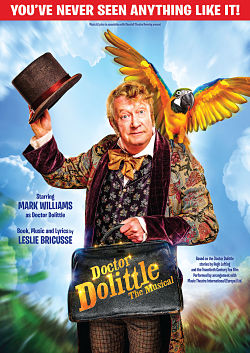 A new production of Leslie Bricusse's Doctor Dolittle will embark on a UK tour produced by Music & Lyrics (The Addams Family, Chitty Chitty Bang Bang, Oklahoma!, Fiddler on the Roof, High Society and The King and I) late next year as part of the 50th anniversary celebrations of the original film starring Rex Harrison.
The new version of the musical features stunning visual puppetry with a reworked book by Bricusse, music and lyrics by Bricusse and copies the 1967 movie of the same name based on the children's stories by Hugh Lofting. The world premiere of the musical opened at the Hammersmith Apollo in July 1998 starring TV presenter and personality Phillip Schofield in the title role and featured animal puppets provided by Jim Henson's Creature Shop. The production also featured the pre-recorded voice of Julie Andrews as Polynesia the parrot. Doctor Dolittle features songs including Academy Award-winning "Talk To The Animals".
Doctor Dolittle tells the story of a doctor who shuns human patients in favour of animals,learning to speak the language of various animals and treats them as patients. Join the eccentric Doctor, his human companions and exotic menagerie of animal friends on an extraordinary adventure to find the Giant Pink Sea Snail that holds the secret of life and making the world a happier place. With help from the Pushmi-Pullyu and his trusty sidekick Polynesia the parrot, he teaches us not only to talk to the animals but to listen to them as well!
Directed by Christopher Renshaw (Le Grand Mort, Zorro, Taboo, We Will Rock You, The King and I), with design by Tom Piper (Associate Designer at the RSC from 2004-2014, and designed installation for the Tower of London poppies and subsequent tours - original concept and Poppies by Paul Cummins), with musical supervision by Mike Dixon (most recent theatre includes Mrs Henderson Presents, Oh What A Lovely War, Bodyguard, Taboo, Hair, Zorro, Never Forget and We Will Rock You).
Bricusse is a Double Academy Award-winner with theatre credits including Pickwick, Scrooge and Victor/Victoria with classic numbers "What Kind of Fool Am I?", "My Old Man's A Dustman" and "Oompa-Loompa-Doompa-Dee-Doo". His film credits include Home Alone, Hook, Goldfinger and You Only Live Twice.
Below are the venues we have so far with casting to be announced.

| | | |
| --- | --- | --- |
| Bromley Churchill | 9-24 November 2018 | |
| Salford Lowry | 11 December-5 Jan 2019 | |
| Wolverhampton Grand | 29 January-9 February | |
| Newcastle Theatre Royal | 12-23 February | TBA |
| Hull New | 26 February – 9 March | TBA |
| Aberdeen His Majesty's | 12-23 March | TBA |
| Northampton Royal & Derngate | 26 March - 6 April | TBA |
| Nottingham Theatre Royal | 9 – 20 April | TBA |
| Sheffield Lyceum | 23 April – 4 May | TBA |
| Edinburgh Festival | 14 – 25 May | TBA |
| Bradford Alhambra | 28 May – 8 June | TBA |
| Dublin Bord Gais | 11 – 22 June | TBA |
| Canterbury Marlowe | 9 – 20 July | TBA |
| Southampton Mayflower | 20 – 31 August | |
| Blackpool Winer Gardens | 3 – 14 September | TBA |
| Birmingham Hippodrome | 22 October – 2 November | TBA |