DANCE 'TIL DAWN TOUR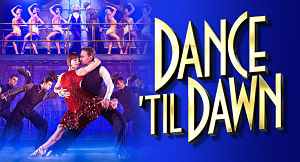 Vincent Simone and Flavia Cacace from BBC's Strictly Come Dancing are starring in a tour of Dance 'til Dawn which is being presented by Adam Speigel who is the producer of their last tour of Midnight Tango.
Dance 'Til Dawn! is a brand new sensational dance show straight from the Golden Age of Hollywood.
It tells a story set in Los Angeles in the 1940s when romance blossoms between a beautiful starlet and her handsome lover. Dance 'Til Dawn will transport you to a time of elegance with stunning sets, a live band, world class dancers and Vincent and Flavia themselves with their flawless footwork and spellbinding choreography.

Dance 'Til Dawn is a classic love story that brings vintage Hollywood glamour to the present.The score features classics including "Feeling Good", "Moon River" and "Stand By Me".
Joining Vincent and Flavia on the tour are Oliver Darley as The Voice, Teddy Kempner as Tommy Dubrowski, Abbie Osmon as Lana Clemenza, Faye Best, Tyman Boatwright, Ivan De Freitas, Danny Stowell, Lindsey Tierney, Gemma Whitelam, Ben Harris, Giovanni Spano,Callum Clack, Jemima,Loddy, Ian Oswald and Lauren Stroud
THIS TOUR ENDED ON 2ND MAY 2015