QUEEN & ADAM LAMBERT 2021 RHAPSODY TOUR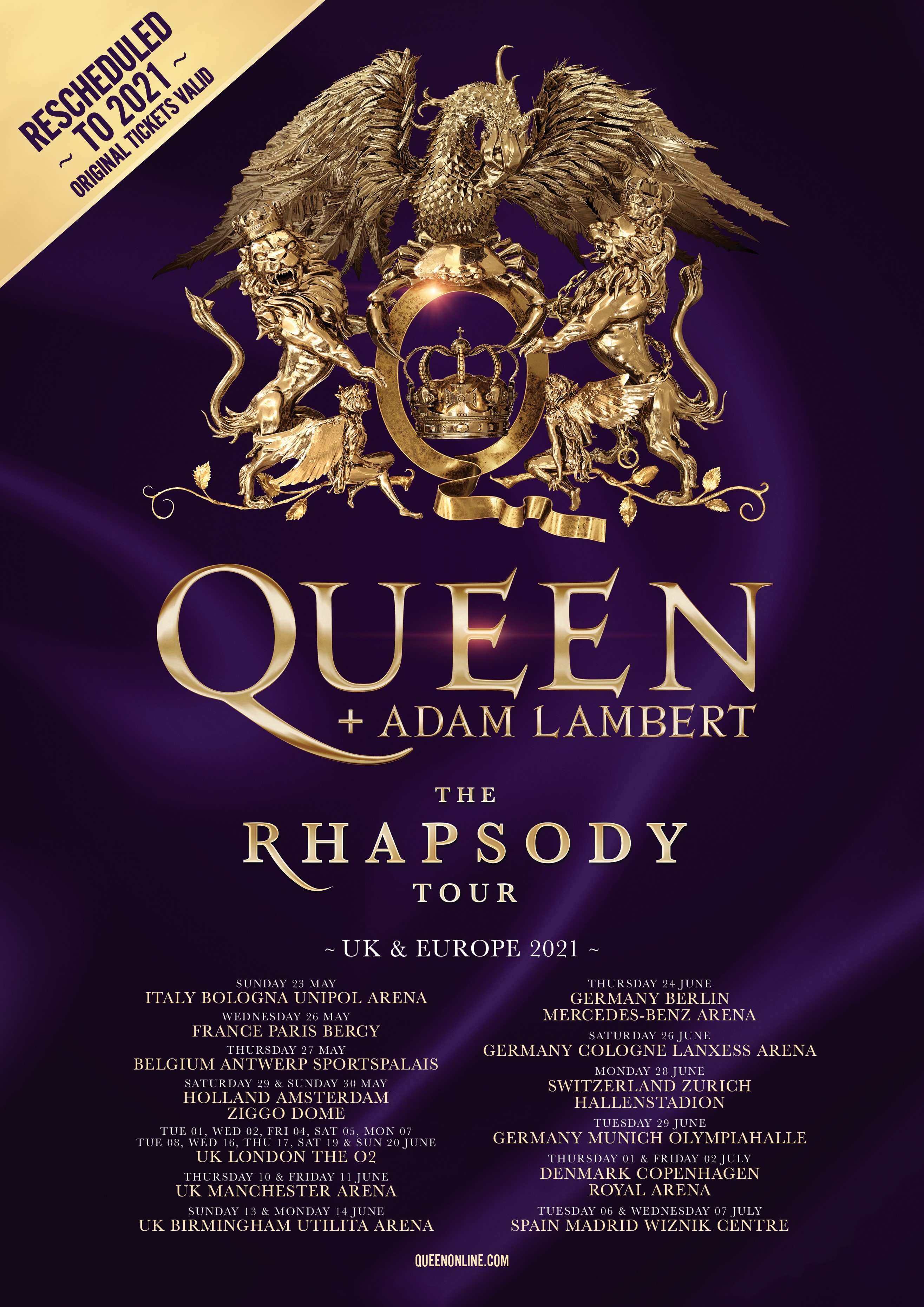 Having rocked North America with 25 giant shows across the Summer of 2019 which drew universally ecstatic reviews – "it's loud, it's fun, and it's unforgettable" - and played to sold out audiences totalling close to 400,000 spectators, Queen + Adam Lambert have finally announced that they will bring their brand new, hugely anticipated "Rhapsody" concert experience to UK and Europe audiences in 2021.
In what will be their first European dates since the worldwide Box Office sensation that was the "Bohemian Rhapsody" film, Queen + Adam Lambert today reveal that they will perform shows in England and Europe in spring 2020.
The all-new "Rhapsody" show, already hailed as "a marvel of technical advances," will kick off the new year of 2020 with 17 giant arena and stadium shows across South Korea, Japan, Australia and New Zealand. The extravaganza will then arrive in the UK and Europe as Queen original band members Brian May and Roger Taylor team up once more with longtime front man Adam Lambert on lead vocals, to perform 16 shows across eight countries
Below are the 2021 RESCHEDULED TOUR DATES
.
| | | |
| --- | --- | --- |
| LONDON o2 | 5th June 2021 | |
| LONDON o2 | 7th June | |
| LONDON o2 | 8th June | |
| Manchester Arena | 10th June | |
| Manchester Arena | 11th June | |
| Birmingham Arena | 13th June | |
| Birmingham Arena | 14th June | |
| LONDON o2 | 16th June | |
| LONDON o2 | 17th June | |
| LONDON o2 | 19th June | |
| LONDON o2 | 20 th June | |