G4 CHRISTMAS BY CANDLELIGHT 2017 TOUR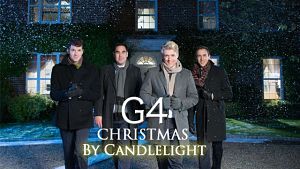 X-Factor stars and operatic vocal quartet G4 have just finishd their 2016 atmospheric "Christmas By Candlelight" show across the UK and have announced that they will be prepeating the show in 2017. With a series of shows in beautiful churches and cathedrals nationwide, these intimate performances see Jonathan, Ben, Mike and Nick recall the musical experiences of their childhoods. They will also share the songs from their album "G4 Christmas".
Expect to hear timeless classics such as When A Child is Born, Silent Night and All I Want For Christmas, as well as delightful medleys to evoke the Christmas spirit, all delivered up-close and personal in some of the UK's most iconic historical venues. There may even be a chance for you, the audience, to join in, if you'd like to…
G4 continue to work in association with the charity Missing People and their Home For Christmas Appeal. For many, Christmas is about spending time with loved ones. Not everyone is lucky enough to be united with the people closest to them. Missing People are a lifeline when someone goes missing.
THIS TOUR ENDED ON 21ST DECEMBER 2017