COLLABRO CONCERT TOUR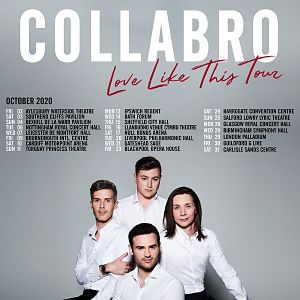 Collabro met in 2014 above a pub in London for their first rehearsal and only a month later made their first public performance at the Hammersmith Apollo receiving a standing ovation for Stars in their first audition for Britain's Got Talent. Having won their semi-final heat with over 63% of the votes, they also won the overall competition with one of the biggest majorities ever.
In the two years since the competition, Collabro have released a number one debut album "Stars", and their follow up album "Act Two" reached number two in the charts in the summer of 2015. They have performed at the Royal Variety Performance, twice on Britain's Got Talent including the ten-year grand final compilation of past contestants, and have become enormously successful internationally. They have performed for over 30 million people in Japan on Music Station on two separate occasions, completing a tour and winning a gold disc award for top international artist alongside Sam Smith and Meghan Trainor. They have also completed two tours of America alongside with a major record deal stateside.
Collabro, now made up of Jamie Lambert, Michael Auger, Matt Pagan and Thomas Redgrave, have already performed to 7 million people on Soccer Aid 2016 to critical appraise and excellent reviews as a four piece. Excited for the future the band are looking forward to releasing their third album 'HOME' in early 2017 and will be embarking on tours of Canada, Japan and America before their heading back to the UK for their major tour in the winter..
THIS TOUR ENDED ON 2ND DECEMBER 2017