THE BARRICADE BOYS CONCERT TOUR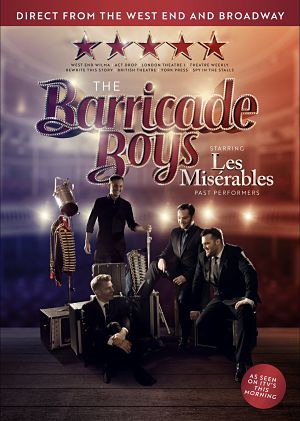 Les Misèrables performers Scott Garnham, Simon Schofield, Kieran Brown and Craig Mather formed The Barricade Boys to perform the world's greatest show tunes and celebrate music from some of the most iconic names in the music industry, from powerful ballads and beautiful operatic arias to some of the best pop, rock and swing numbers of all time.
As well as appearing in Les Misèrables, The Barricade Boys have played nearly every major role in musical theatre from 'The Phantom of The Opera', 'Wicked' and 'Billy Elliot' to 'Jersey Boys'. They are all experienced cabaret and concert performers who have toured all over the world to countries including New Zealand, South Africa, Rome, Venice, Korea, China and Australia
With fabulous harmonies, incredible vocals combined with good looks and great personalities, The Barricade Boys are the first musical super group!
As well as performing the concerts listed below next March, they are also performing THE BARRICADE BOYS CHRISTMAS CABARET featuring classics like 'White Christmas', 'Santa Claus Is Coming To Town', 'Winter Wonderland' and 'Rockin Around The Christmas Tree' with a three-week season at The Other Palace in London from 5th - 23rd December. (Press night is Thursday 7 December at 8.00pm.) Different West End stars includng Michael Xavier, Rachel Tucker and Killian Donnelly will appear on stage with the boys each night.
Below are the dates we have so far

| | | |
| --- | --- | --- |
| LONDON The Other Palace | 5-23 December | |
| Aylesbury Waterside | 12th March 2018 | |
| York Grand Opera House | 14th March | |
| Folkestone Leas Cliff Hall | 15th March | |
| Stoke Victoria Hall | 17th March | |
| Southport Theatre | 18th March | |