COMPANY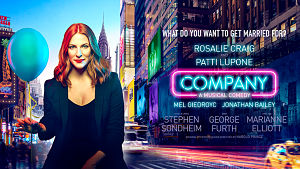 Marianne Elliott directing Stephen Sondheim and George Furth's musical comedy COMPANY, about life, love and marriage. Liam Steel is in charge of choreography and movement direction.
Patti LuPone is starring as Joanne opposite Rosalie Craig as Bobbi at the Gielgud Theatre for a limited run only booking until 22nd December 2018. Former Great British Bake Off host Mel Giedroyc is playing Sarah, who is married  to Harry played by Gavin Spokes .
More cast members include  boyfriends: Andy, PJ, and Theo played respectively, by Richard Fleeshman (Guys And Dolls, Ghost The Musical, Call The Midwife and Sting's The Last Ship); George Blagden (Louis XIV in Versailles) and Matthew Seadon-Young (Billy Elliot and Beautiful). (In previous productions the male  Bobby had a trio of girlfriends: April, Marta and Kathy).  Broadchurch star Jonathan Bailey will play Jamie (original character called Amy) and Alex Gaumond takes the role of Jamie's partner, Paul. Daisy Maywood will play Susan.
Richard Henders plays David who in past productions was in business. Now he's a house-husband while his wife Jenny played by Jennifer Saayeng (previously a stay-at-home spouse),  has now become the breadwinner .
Other casting includes Ben Lewis as Joanne's younger trophy husband (hedge-fund manager Larry);as Harry (married to Giedroyc's Sarah); and Ashley Campbell as Peter with more casting news still to come for the last three roles: Susan (or  Peter's partner) and Amy & Paul,
Elliott & Harper Productions are presenting this iconic musical with the lead role of "Bobby" re-imagined for the first time as a woman. At Bobbi's 35th birthday party all her friends are wondering why isn't she married? Why can't she find the right man? Why doesn't she settle down and have a family? One thing is for certain; you will fall in love with Company. Featuring Stephen Sondheim's iconic songs – The Ladies Who Lunch, Being Alive and Side by Side.The 1970 musical has received some modern updates. Chris Harper, a business partner to the director says, "Bobbi is a sexually confident woman, looking for love. She's a woman of today, really 2018." LuPone said she is doing the show because of Marianne Elliot saying  "She's a visionary."

THIS PRODUCTION ENDED ITS RUN ON 30th MARCH 2019
DISABLED ACCESS TO COMPANY
GIELGUD THEATRE
Shaftesbury Avenue
London, W1D 6AR

Tube : Piccadilly Circus (250m) & Charing Cross (550m)
Train: Charing Cross ( 550m)

14, 19, 38

NCPs at Wardour St, Newport Place, Denman St, Lexington St - 2 spaces for blue badge holders in Archer Street. MasterPark at Poland Street and China Town
DISABLED ACCESS TO COMPANY
| | |
| --- | --- |
| | Hearing-Impaired infra-red system in the auditorium and induction loop at Box Office. Infra-red system with 14 headsets. The best reception is in the front area of all levels of the auditorium. Induction loop at the Box Office |
| | Guide dogs are permitted inside the auditorium |
| | Entrance to the auditorium is through the third side exit door on Rupert Street. Ask a member of staff to open this for you. One 12cm step up to the front of the Dress Circle. Venue suitable for scooters. Seats B5 and 30 can be removed to provide 2 spaces for wheelchair users |
| | Adapted toilet in foyer near the bar |