CILLA THE MUSICAL TOUR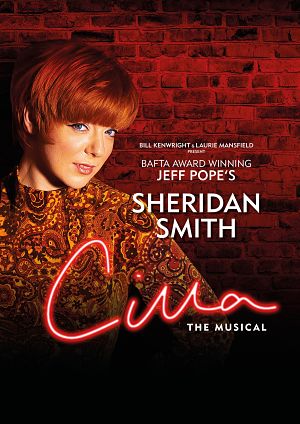 Bill Kenwright And Laurie Mansfield are producing a tour of Cilla the Musical which is based on Jeff Pope's brilliant, three-part ITV drama Cilla that screened in 2014 and starred Sheridan Smith. Pope has adapted his screenplay for the theatre. Cilla's eldest son Robert Willis is executiive producer of the show.
Pope said: Essentially, it's the story of a young girl from Liverpool's 'Scottie Road' who aims for the stars and gets there, 'but finds that it's not all she thought it was going to be. The stage show will concentrate more on the music than the TV programme did featuring Cilla classics including Anyone Who Had A Heart, Alfie, You're My World, Step Inside Love and Liverpool Lullaby. It will also cover the early Merseybeat sound with groups like The Big Three, Rory Storm and the Hurricanes, and some early Beatles numbers.
The tour will be directed by Bill Kenwright and Bob Tomson opening at Liverpool Empire in September Willis said: It was a theatre my mother loved. Before she became well known, she would wait by the stage door and ask for autographs. It will initially go on tour with the possibility of more dates and a West End transfer. Open auditions will be held in Liverpool this Spring (and elsewhere in the UK ) to find an actress to portray the young Cilla.
Casting news for the new tour includes Kara Lily Hayworth  again reprising the lead role with Alexander Patmore/Bobby, Andrew Lancel/Brian Epstein, Jayne Ashley/Big Cilla,Neil MacDonald/John White, Timothy Lucas/Kenny Willis, with the Beatles played by Michael Hawkins (John Lennon), Bill Caple (Ringo Starr), Alex Harford (George Harrison) & Joe Etherington (Paul McCartney/Denny Doherty), Alan Howell as Gerry Marsden , Chloe Edwards-Wood/Beryl/Swing, Gemma Brodrick-Bower/Pauline, Tom Dunlea/Johnny Hutchinson, Billie Hardy/Pat, Gary Mitchinson/Daniel, Harriette Mullen/Rose Willis, Jay Osbourne/Adrian Barber/John Phillips, Tom Sowinski/George Martin and Christopher Weeks/John Gustafson.
THIS TOUR ENDED ON 1ST DECEMBER 2018