BILLY ELLIOT THE MUSICAL TOUR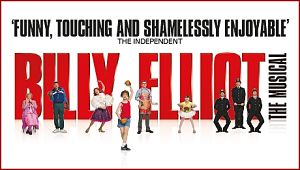 The first UK and Ireland tour of Billy Elliott the musical been announced, opening at the Theatre Royal Plymouth in February 2016 and touring until June 2017 .
Billy Elliot the Musical is based on the film of the same name which starred Jamie Bell. Set in North East England. Billy Elliot is a sad and triumphant tale about a young boy who is more interested in ballet classes than boxing lessons (much to his brother and father's disgust).
Encouraged by his dance teacher, this is the heartwarming story of a lad willing to go against his macho upbringing to pursue his dreams. A real feelgood show.
Casting news so far includes Anna-Jane Casey as Mrs Wilkinson , Martin Walsh as Dad with Scott Garnham as Billy's brother Tony. The company also includes Phillip Aiden, Jonathan Alden, Leo Atkin, Tom Bainbridge, Deborah Bundy, Jack Butterworth, Luke Cinque-White, Donna Combe, Wayne Fitzsimmons, Nikki Gerrard, Abbie Louise Harris, Paul Hutton, Leon Kay, Charlie Martin, Kris Manuel, Barnaby Meredith, Daniel Page, Georgina Parkinson, Amy Rhiannon-Worth, Rachel Spurrell, Sebastian Sykes, Rafe Watts and Luke Zammit.
The four boys who will play the title role in the first ever UK and Ireland tour are Adam Abbou (12 years old from Liverpool), Matthew Lyons (11 years old from Leeds), Haydn May (11 years old from Bath) and Lewis Smallman (12 years old from West Bromwich). They will be joined by Henry Farmer (10 years old from Lancashire), Elliot Stiff (9 years old from Sunderland) and Samuel Torpey (9 years old from Manchester) who all alternate the role of Billy's best friend Michael. Joining them will be Lilly Cadwallender (10 years old from Hartlepool), Evie Martin (10 years old from Middlesbrough) and Italia Ross (10 years old from Hartlepool) who all alternate the role of Debbie
THIS TOUR ENDED ON 23RD JULY 2017