SHEILA HANCOCK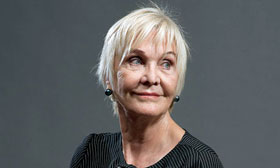 Sheila Hancock is a prolific actress with a career spanning, theatre, radio, television and film and she is also a successful writer.  

She was born on the Isle of Wight and worked in repertory during the 1950s, making her West End debut in 1958 replacing Joan Sims in a Breath of Spring. In 1965 she made her Broadway debut in Entertaining Mr Sloane. 

In 1973 she married the popular actor John Thaw and they were together until he dies in 2002. 

Theatre credits include: The Birthday Party (Lyric Hammersmith), Fraulein Schneider in Cabaret, Mum in the Liverpool Playhouse production of The Anniversary (a role played by Bette Davis with Sheila playing the daughter-in-law in the original film version), The Arab Israeli Cookbook (Gate Theatre), Under the Blue Sky (Royal Court Theatre), Vassa (Albery Theatre) and In Extremis at the Royal National Theatre.  

Earlier work includes Annie (original London Miss Hannigan) and Sondheim's Sweeney Todd (original London 'Mrs Lovett').  At the National Theatre: The Cherry Orchard and The Duchess of Malfi and at the RSC:  The Winter's Tale, Titus Andronicus, A Delicate Balance and Peter Pan. Other credits include Gypsy (West Yorkshire Playhouse), Entertaining Mr Sloane (New York) and The Way of the World (Lyric Hammersmith).   

Sheila has worked as a director: A Midsummer Night's Dream made her he first woman Artistic Director of the RSC Tour.  She was also the first woman to direct in the Olivier at the  National Theatre with Sheridan's The Critic. She was Associate Artistic Director of the Cambridge Theatre Company directing The Constant Wife, Dandy Dick, In Praise of Love and The Soldier's Fortune. 

Her most recent television appearances include Moving On, Before I Call You In  Bleak House, New Tricks, The Catherine Tate Show, Fallen Angel, After Thomas, Feather Boy, Bedtime (three series), Fortysomething, Bait, The Russian Bride and EastEnders.  Recent television guest appearances include Grumpy Old Women, Have I Got News For You and Room 101. 

She was also a judge on Andrew Lloyd Webber's BBC casting show "Over The Rainbow". 
Her films include: Boy in the Striped Pyjamas, Yes, Hold Back The Night and Love and Death on Long Island. 

Sheila is the author of Ramblings of an Actress, The Two of Us (Author of the Year award) which is a dual biography of her and John Thaw giving accounts of both their lives and focusing on their 28-year marriage. Just Me which was published last year and is about her coming to terms with widowhood.  She is now working on her first novel. 

She has been Chancellor of The University of Portsmouth since May 2007 and has just been awarded a CBE for her services to drama in the 2011 New Years Honours List.