RHYDIAN ROBERTS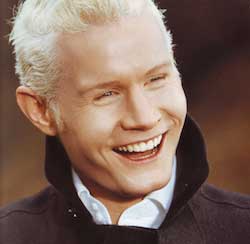 Rhydian Roberts is popularly known as Rhydian. He is a Welsh operatic singer who
rose to fame in 2007 as a runner-up on The X Factor.
Since then Rhydian has released his debut album, the eponymous Rhydian, appeared
at Andrew Lloyd Webber's 60th Birthday Party in Hyde Park, released a second album O Fortuna and completed a 24-date solo tour of the UK.
During 2010 Rhydian has performed several gala evenings: three of them at London's Royal Albert Hall. Among his engagements in Wales was the closing event of the St David's Week Festival at Brangwyn Hall, Swansea and The National Eisteddfod of Wales.
He has done a UK and European arena tour of Jeff Wayne's War Of The Worlds with Jason Donovan, Liz McClarnon, Justin Hayward and Chris Thompson.
Seasonal engagements in December included guesting at Hayley Westenra's Christmas
Wishes at Birmingham's Symphony Hall on the 19th December and at the Barbican
Hall on 22 December: and a Christmas Spectacular at the O2 Arena on 23rd December with Ruthie Henshall.
He recently toured with We Will Rock You placing Khashoggi, Chief of Police.
Rhydian guested as Teen Angel on the tour of Grease and his third album Waves was released in August 2011.