MICHAEL CRAWFORD - THE WIZARD OF OZ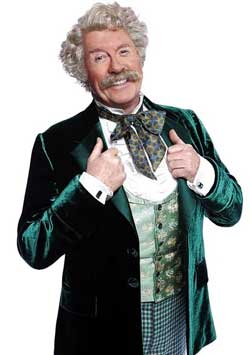 Michael Crawford has been working with Andrew Lloyd Webber again for the third time, and this time he was playing the part of the Wizard of Oz at the London Palladium in the musical of the same name.
The first time Michael Crawford worked with Lord Lloyd Webber was in the much hyped and high profile The Phantom of the Opera with Sarah Brightman (then Lloyd Webber's wife playing the part of Christine). Crawford played this part in London and Los Angeles for over three years giving over 1,300 performances. For this performance he won an Olivier Award (Best Actor in a Musical), a Tony Award (Best Performance By An Actor in a Lead Role, Musical), a NY's Drama Desk Award and a Los Angeles Drama Critics Circle Award for Distinguished Achievement in Theatre (Lead Performance) for his efforts.
During the run of Phantom in Los Angeles, Crawford was asked to perform "The Music of the Night" at the Inaugural Gala for President George Bush in Washington, DC on 19th January 1989.
He last appeared on the West End stage 2004 in Andrew Lloyd Webber's The Woman In White when he originated the role of the morbidly obese Count Fosco but his performance was short-lived as he became ill and had to leave the show after three months after becoming dehydrated by wearing his larger than life character's huge fat suit every night. He spent several months recuperating and was unable to reprise the role on Broadway so Michael Ball took on the role but also had to leave the show early due to a reported viral infection caused by the fat suit.
In the original 1939 MGM movie the Wizard of Oz appears throughout the story disguised as a doorman, carriage driver and Professor Marvel. Lord Lloyd Webber's new musical is more representative of L Frank Baum's novel The Wonderful Wizard of Oz, with the Wizard's character being rediscovered with input from Crawford and the addition of what Crawford has described as "musical pieces" rather than songs.
The Wizard of Oz musical production has Harold Arlen's original film score which includes the classics Over The Rainbow and Follow the Yellow Brick Road, plus several new songs by Lord Lloyd Webber and Sir Tim Rice.
Crawford was at home in New Zealand when BBC's Over The Rainbow was being broadcast in the UK and 18 year old Danielle Hope won the part of Dorothy. She will certainly have to work very hard and learn a lot from her first musical theatre role as Crawford has a reputation as a hard taskmaster and perfectionist who does not tolerate the word "compromise" in his vocabulary.
Michael Crawford finished his role in Oz on Sunday 5th February 2012.