MARTI PELLOW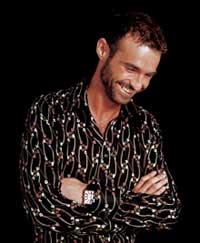 Marti Pellow has been the lead singer of Wet Wet Wet, since their formation in 1982 and has also appeared in musicals in London's West End and released a lot of solo material.

In 1982 he formed a band called Vortex Motion with three friends from Clydebank High School.
The name was changed to Wet Wet Wet, which was a title taken from the Scritti Politti song, Gettin, Havin' and Holdin'. Pellow enjoyed success with Wet Wet Wet throughout the late 1980s and 1990s, leaving in May 1999 and effectively disbanding the group. But they re-formed in March 2004.

Pellow began his career as a solo artist in November 1999 with his first solo tour and later released a solo album.

In 2002 he hosted and sang in Girls' Night Out in aid of the Teenage Cancer Trust, at the Royal Albert Hall which led to him being offered the part of Billy Flynn in the musical Chicago in London's West End,  on tour  and on Broadway.

Pellow has performed at  jazz clubs and jazz festivals including Ronnie Scott's Jazz Club, The Pigalle Club, the Cheltenham Jazz Festival and Ronnie Scott's in the Park in Woburn.

In 2008 Pellow appeared in Sir Tim Rice's concert revival of his hit musical Chess at the Royal Albert Hall playing the Arbiter.

He has recently played the leading role of Daryl Van Horne in a touring revival of the musical The Witches of Eastwick, toured with George Benson and at the beginning of 2011 and then played the starring role in a tour of the musical Jekyll & Hyde.
Marti has been playing the Narrator in Blood Brothers in London's West End and has been on the tour of Blood Brothers reprising the role at selected venues until the end of November when he joined Jeff Wayne's new Musical Version of The War of The Worlds: The New Generation - Alive on Stage playing the The Sung Thoughts of the Journalist.
Marti rejoined the tour of Blood Brothers until the end of February and has just finished his Hope concert tour promoting his new album Hope.
He now has recently been in a new tour of Evita playing Che Guevara which transferred into London for limited season.