MARIA FRIEDMAN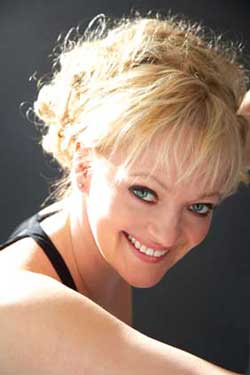 Maria Friedman was born in Switzerland with a father who was a Russian violinist, and mother who was a concert pianist. The family moved to Germany when her father joined the Bremen Philharmonic, but her parents divorced when she was five, and she moved to England with her mother, two sisters and brother. 
Her stage credits are too long to list, but below are the major roles that she has played.

Maria's first stage appearance was in 1980 in the chorus of a West End revival of Oklahoma! Regional work followed, and she returned to the West End in a small part in Blondel in 1983.  She played a featured part in the West End musical revue Blues in the Night in 1987 for a year and then did regional work before returning to the West End in 1989 in Ghetto.
Her work brought her to the attention of Stephen Sondheim who used her in a studio cast recording of A Little Night Music in 1990 and cast her in the starring role of Dot in the first West End production of Sunday in the Park with George. She then starred in a revival of Sondheim's Merrily We Roll Along in Leicester that later produced a cast album. Her next West End performance was in Square Rounds which ran into 1993, following which she played the lead role of Sally Bowles in a studio cast recording of Cabaret.
She spent three months in 1994 in the play April in Paris and during this time also began performing her one-woman show, Maria Friedman by Special Arrangement, which won her an Olivier Award.
In August she gave birth to a son by the director Jeremy Sims and in 1995 returned to cabaret work in a new one-woman show called Maria Friedman by Extra Special Arrangement. Using her one-woman shows as the basis, she recorded her debut solo album, Maria Friedman. (A later issue of the album was retitled Broadway Baby.)
In 1995 she appeared in Leicester in the play The Break of Day which transferred into London, and after it after it closed she went into Sondheim's Passion at the Queens Theatre, which toured before opening in London. Her performance as Fosca won Maria her second Olivier Award for Best Actress in a Musical, and a cast album was recorded.
In1997 she appeared in the first London production of the 1941 Broadway musical Lady in the Dark at the Royal National Theatre which earned an Evening Standard Award as well as an Olivier Award nomination. In November 1998 she played Roxie Hart in the musical Chicago until June 1999 when she took a four-month break and returned for another stint through February 2000.
In July 2000 Maria Friedman starred as Sukie in a new musical The Witches of Eastwick which was based on the film of the same name with Ian McShane playing the Jack Nicholson part. 
In April 2002 she began performing in a new one-woman show in London until the summer when she gave birth to her second son. Maria also starred in the 2002 Last Night of the Proms in the Park and  2003 she returned to the West End in Ragtime, which won her a third Olivier Award.
She took her one-woman show to New York in 2003 appearing at the Café Carlyle and in 2004, she released her second solo album, Maria Friedman Live.
Her next London musical found her working with Andrew Lloyd Webber, starring in The Woman in White which she stayed with until May 2005 and appeared on the cast album. She then went to New York to make her Broadway debut in The Woman in White, but she was diagnosed with breast cancer and forced to undergo medical treatment. She recovered sufficiently to make the Broadway opening but the show  received bad notices and only had a brief run which concluded in February 2006.
Friedman returned to the Café Carlyle for a one-month run in May  2006 which coincided with the American release of her album Now and Then.
Maria performs in concert halls all over the world and frequently appears with Britain's leading orchestras including the London Philharmonic, BBC Symphony and London Symphony.
In addition to her solo album, Maria's recordings include: Sondheim's Merrily We Roll Along; Anyone Can Whistle; A Little Night Music; Cabaret, Off the Wall by Don Black; Body Works by Richard Stilgoe, as well as the cast recordings of Witches of Eastwick; Lady in the Dark; Blues in the Night and Stephen Sondheim's Passion. In addition she is featured on Andrew Lloyd Webber's Essentials album, a live concert recording of her new one-woman show – Maria Friedman Live and her latest release is Maria Friedman - Celebrates The Great British Songbook was released on 10th April.  It features 15 tracks including What Kind Of Fool Am I, We´ll Meet Again, Diamonds Are Forever and As If We Never Said Goodbye.  It was first presented in February 2009 at London`s Shaw Theatre during the Feinstein`s At The Shaw season.

Her work for television includes: Trish Baynes in Casualty, In Deep and Red Dwarf all for BBC; Frank Stubbs Promotes, Carlton; Orlando, BBC2 and Tony Harrison's Black Daisies for the Bride.
Film work included the Narrator in the film of Joseph and the Amazing Technicolor Dreamcoat which won the Silver Rose in Music at the Rose d'Or Montreux Festival.
She last appeared in Ken Hill's music hall comedy version of The Invisible Man at the Menier Chocolate Factory.